What is Local SEO?
Now more than ever, Local Search Engine Optimisation matters.
If your business has a physical location or serves a geographical area, you should promote your products and services to local potential customers.
With the increase in reliance on mobile phones, Google has focused more on local search, and therefore has the ability to offer geographical search results.
Google can now pinpoint exactly where your customers are, which means that appearing locally is a huge opportunity for your business.
Both Google itself and the buying public recognise the value of local businesses. Get your local SEO right and you won't need to worry about competing with large corporations to get your business in front of nearby customers.
According to a study by Forbes online, 95% of smartphone users have used their device to perform mobile searches for local businesses, leading to 61% of them calling the business and 59% of them visiting – and it's only increasing.
Why do you need Local SEO?
Increases your visibility
Builds trust
Encourages footfall
Boosts your website traffic
Gets you more leads
Stops you wasting time competing against huge eCommerce corporations
Helps you gain loyal customers.
How do you maximise Local SEO?
One of the best ways to capitalise on local SEO is through local business listings and with good citations.
Until recently, this was a very manual (and costly) piece of work.
But now, our new local SEO package helps you build up and improve on these vital signals for Google to firmly place your listing on Google in the right place. This in turn drives more leads from the search results.
Aside from allowing you to gain more traffic, it can help you dominate your local market. Just Google My Business (Google's business listing) alone can drive 1,000s of visits and calls to your business each month (once optimised).
Local SEO is essential to your business, especially if you're bricks-and-mortar, or a business that provides a service in a certain service area like 'Warwickshire Plumbing' or 'Coventry Accountants', for example.
In short: Local SEO drives more local traffic to your business and helps improve your ranking for key terms over time.
Your local listings can also gain reviews, the second largest factor in local SEO. We can help you get more reviews with the inbuilt 'Get Reviews' service.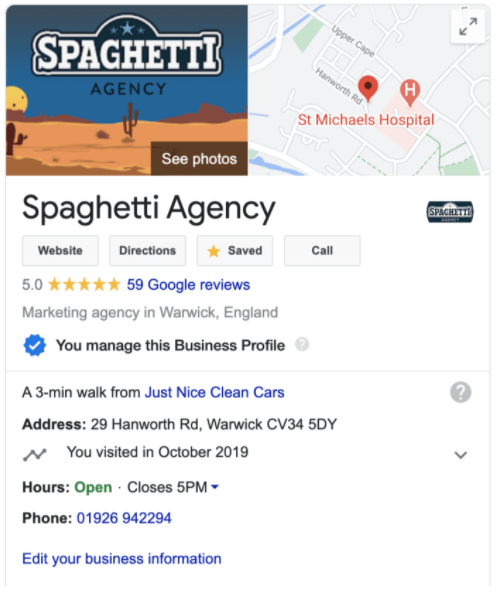 Better Local SEO, More Leads – welcome to the Spaghetti Local SEO Package
The main aim with SEO is to get more traffic to your website and with the big focus on local listing and results. working on your LOCAL SEO is now an essential part of any business' marketing and with our super new product it's so easy, too!
The local SEO package sets a solid foundation for your business to help it appear more in local search results – and that's an incredibly exciting opportunity.
Here's what you get..
In-Depth Local SEO Audit
Onsite Audit.
Google My Business Audit.
Live Local rankings Checker for Google/Bing Search & Maps.
Current Citation Tracker (including potential Duplicates and NAP errors).
Reputation Manager (showing the current situation with online reviews).
Link to Live Dashboard to view the results in Real Time for the duration of the Campaign.
Full feedback report with actionable points for improvement, quick wins and recommendations going forward.

Citation Builder
Citations are an online reference to a business that features the business name, address, and phone number commonly known in the SEO world as NAP.
The best way to grow and improve citations (key to local SEO) is with a group of individual business listings on various listing sites.
Here's what we'll do for you with our local Citation builder, all included in the Local SEO Package:
Identify and manually submit 25 Key Citations on the top Business Directories in the UK to help further boost your visibility in Local Search Results.
And provide you with your very own live progress report so you can see live reviews, updates, and areas to improve on.
Your local SEO Audit
With a bespoke citation builder and get reviews service
Looking for more local business enquiries and leads?
We'll help you get:
A stronger local listing set-up
A better local SEO focus
More reviews with our 'Get Reviews' service
Your local ranking increased.
… all in your very own online dashboard that you can view, edit, and update.
We'll also give you a full audit and suggestion of ways to improve your local SEO – in plain English.
Get the Spaghetti edge now
Dominate your local market and beat your competition.
Simply complete this form and we'll get back to you as soon as we can.
Fill out form