Friday Digital Roundup
The Friday Digital Roundup is a witty take on the weird world of the internet. With fun stories from around the globe, it's the only email newsletter you'll actually read and enjoy!
We do love writing it, but clearly not as much as people like receiving it - just look at the response we got when a technical hitch meant it wasn't sent out on time!
Meschi Consultants @MeschiConsult
When it comes to the end of the week, there is no better way to start a Friday than with a run around the internet with Todd and Jo in the FDR. Just don't let them know I do it from the loo!
Kathryn Lynch-Smith @KikikatSmith
@Spaghetti_Jo
My inbox is full of rubbish newsletters that Im constantly deleting😬 My VIP inbox is for 1 thing only- THE DIGITAL ROUNDUP🤠I dont read a Newspaper or the news online, I just wait for Fridays, when this lands in my inbox- then I know 'The weekend has landed'🤗
Get the Friday Digital Roundup and see what everyone's talking about.
We may look like cowboys, but we'll never abuse your data! Find out what we'll do with it here, partner.
Saturday 23rd October 2021
21 And A Half Things I've Learnt About 4Networking From My First 100 Meetings
EDIT: For full disclosure,  Todd is no longer a member of 4Networking and is pursuing other networking channels. It was fun, it generated business, but the landscape changed and he felt it was time to cut ties with 4N.
…
On Thursday, March 31st I completed my first big milestone in 4Networking. I drove 90 minutes from my home in Warwick to 4Sight (speak) at Bracknell and Wokingham 4Networking, stood up for my 40 seconds as a seasoned 4networker, Group leader of the UK's BIGGEST group and a fairly well-known member of the 4N family, and told the room "this is my 100th meeting!".
But Why?? Why would I drive all that way and speak for free? Surely that's costing my business money?
I felt very warm and humbled to be able to drive all the way to Bracknell and still feel part of a connected group and feel comfortable to be myself… something 4Networking encourages.
I've been thinking about my journey in 4N and what I've learnt. I nearly quit mid-2015, but it's been a big old ride since then.
Here's what the last 100 meetings, and almost two years, have taught me about 4N and networking for business.
21 And A Half Things I've Learnt About 4Networking From My First 100 Meetings
1. Three Months Ain't Enough To Decide It 'Doesn't Work'.
I nearly left 4N. "How much business am I getting from all this?" I asked myself, just three months in.
I enjoyed it, but I was very conscious that I needed to convert everything I did into money. But three months wasn't enough time to make that decision.
2. Passporting Is THE Biggest Part Of 4N That I Ignored In The Early Days…
Passporting (visiting any group in the UK) was one of the things that attracted me to 4N, but I didn't do it for ages. Now I go all over the place, and have '4Sight tours' planned this year.
When you passport in 4N something magical happens…
… People really do want to speak to you! They care about how far you've come and are interested in your group, your business and they want 121s with you.
It also ties up that connection across the UK that the network is so, SO good at.
3. The Forum is Actually REALLY Good for Your Business and Your Group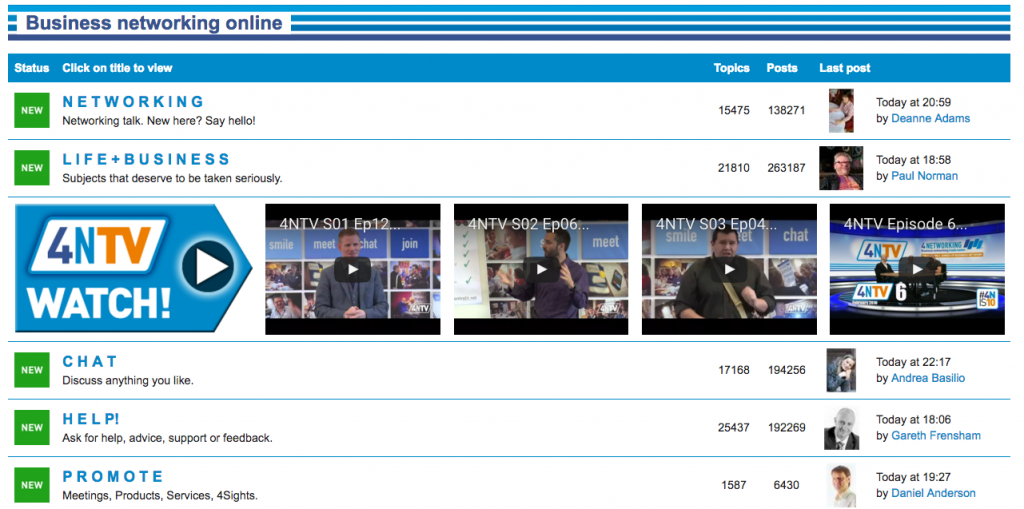 I remember @BradBurton badgering me to join in on the forum in the early days of my 4N membership. He tweeted me a link once to a post where he'd recommended me to another 4Ner. I was really chuffed about that and followed up right away.
I've continued to use the forum ever since.
The biggest thing that's come out of the forum though, is raising my profile. People knew me from the forum when I went to The Business Networking Show and the Accelerate Conference last year. I was a real life version of me from the forum and members wanted to talk to me.
Talk is cheap? Nope. As Stefan Thomas says "Everything starts from a little conversation…" and that means I get way more chances to get business from the network.
4. 4Sights Are A Huge Opportunity That Many Don't Take 
If you've met me then you'll know that I don't shy away from 4Sights. It's one of the reasons I joined 4N. I didn't want to wait my turn to give a talk – I wanted to talk every week! I love to help people with what I do, as well as tell my story, and 4Sights are perfect for that.
I 4Sighted twice last week and I'm 4Sighting again this week. I've also booked up my 4Sight talks for my own Leamington group for the next three months!
4Sights give you an opportunity to really make an impact at a meeting. Forty seconds is great, but I'd rather take 18 minutes to talk to everyone!
Go and 4Sight! Seriously, if you're in 4N go and book one now! It's such a big opportunity for your business. Scared of public speaking? Lots of people are. Get help from some of the 4Ners who help with that. Do it now.
5. 4Networking Is More Than Just Business – It's A Family
I often talk about 4N being my family and it may seem a bit airy fairy, but it really is my extended family.
I've had the honour of being invited to the annual leaders' conference in 4N two years in a row, despite only being a Group Leader.
There I really got to experience on a large scale just how much of a family Brad Burton has built. Leaders from all over the UK who knew, liked and trusted each other just 'gelled'. There were so many faces I recognised (almost instantly) thanks to the way the network is built. That's so powerful for started conversations.
I went out the night before the last Accelerate conference. Steve the Barman had organised a crew and it really felt like we were all old friends… despite me being a newbie to the 4N network and not really a close friend of any of them.
I love my 4N family. They're there for me when I need them and my core team at Leamington Evening are truly awesome. Jay, Caroline, Sam and Claire are like a mini family who I meet fortnightly. It's something I very much look forward to and hold very dear to me.
6. The Social Saloon This Week Is Full… Of 4Ners!
Every month I run a 121 drop in centre for digital marketing. Not only is it the idea of my business mentor, Claire McTernan (a 4Ner) it's also fully booked this week with 4N members or people referred to me via 4N.
4N works!
7. Working with 4Ners is so easy…
I work with lots of 4N members. From collaborating to getting my tax sorted, finding mentors, IT experts, and looking for new Spaghetti associates.
4N gives me an open market to shop for the best and they'll happily chat to me over breakfast and let me get to really know them before I buy from them, or work with them.
Know, like, trust, join-up. 4N works for that too.
8. 4Networking is a Truly Connected Network
It's easy to ignore the words in the meeting script. Often it's just noise if you've been to lots of meetings. But 4N really is connected up.
All over the UK, 4N members are linked-up on social media, the forum, the meetings and visiting passporters catch-up, meet-up and refer to others.
This makes it easier to refer to people in the network even though they're all over the UK. A 4Ner would be mad not to pay you, do a good job, or follow up on a lead you send them – everyone would know about it!
9. It's Better To Book in Meetings and Then Organise Your Business Around it
Talking of the script – I think it's wrong. I don't think you should book in meetings to suit your schedule – I think you should book your business in to suit your 4Networking!
I book into meetings months in advance and I very rarely cancel one because of business appointment. If a 4N meeting is in the diary then we offer a different time for clients or find a different time or day for work.
You'd be amazed how easy it is to offer the days you don't have 4Networking rather than asking when your clients when they want to meet.
10. Team Roles Really Do Build Your Profile
Claire asked me to be the Group Leader at Leamington Evening a year ago and I initially said that I didn't have time, I was too busy, I couldn't take on anything else…  the usual crap excuses!
"All you have to do is read the script," she explained.
"You'd be great at it!" she said excitedly.
I accepted. And I've never looked back.
Being Group Leader at Leamington Evening has not only been an awesome journey of self development, it's given me a role that's boosted my profile in 4N.
When I move about in 4N as a passporter I'm introduced as: "Todd – Group Leader of Leamington Evening – the UK's Biggest 4Networking group!"
It's just so powerful to be given a pedestal like that before I 4Sight or give a 40 seconds. It's been hard work, but now I get to reap the rewards that being on the team gives me.
Being on a team role raises your profile in your group but it also adds to that connected UK network. GET ON A TEAM!
11. You Have to Get off Your Arse 
A few years back I read Brad's book Get Off Your Arse. Those who know me will have heard that I really did GOMA after reading GOYA. I set up in business with my business partner a few months after reading Brad's book and I've been flying off my arse ever since.
But in 4N you need to GOYA too!
Passport – get outside your comfort groups
4Sight – show people what you can do
Stand-up, but wait – Don't give your 40 seconds whilst getting up or sitting down. Stand tall and project it.
Build a group – don't 'just read the script' like I did. Get off your arse and makes some calls, send some tweets, share some posts on Facebook and the forum and give everyone every reason to come to your group.
4N doesn't work when you sit on your arse. Sorry… you gotta give first.
12. The Top Isn't That Far Away
Brad, Jason, Michael and Terry, the leaders in 4N and some incredible business minds. But they're approachable, contactable and very, very engaged with members. It's a big network but they listen and they care what members think.
That's always impressed me. Michael Nagles has been awesome since he took over. The support has been brilliant.
13. Your 40 Seconds: Don't Make It Up When You Stand Up!
Yup, I've done this countless times and then sat down and thought, "Shit – that was terrible".
Plan your 40 seconds. Some use exactly the same one, some change it up a little, but make sure your 40 seconds doesn't start with you. No one cares about you – they care about themselves.
Give them something to connect with first and they'll listen! The 40 seconds is your chance to get people to talk to you – make it count!
14. Business and Pleasure DO Mix 
In 4N it's 50% business and 50% social. It really does work because we all get on better in a social environment. When we're not obsessing over new business and leads we relax and we connect on a human level.
The 50% social side of 4N means that everyone is relaxed and happy to chat about almost anything and that's the stuff that builds strong relationships. Relationships are what you need to survive in business.
15. 4Networking Is FREE (When You Work At It!) 
I've not paid for 4N since last summer. Being on a team means my days count down every other day so my money goes twice as far. Add to that the FREE 30 days you get when someone that you've invited joins, and you're onto a serious winner.
Every time a visitor that I book on goes on to join I get two months' free! I only need to introduce six people a year and I network for free.
16. Re-launching A Business Through 4N Is Brilliant
We re-branded our business last year and 4N was one of the main places that we talked about it. I constantly shared the news that we were re-branding and our launch event had 4Ners attend too.
I've proudly put up my Spaghetti Agency banner at 4N ever since, and the support from other members has spurred me on to make more noise and do bigger things with it.
17. Social Media Works… But You Have To Add On The 'People' Bit 
I've always used social media to build a network and initially I thought networking was a waste of time. But 4Networking enables you to join up the digital dots and be social in real life and online with the people you meet.
It's a very social media-savvy network and that's been great for me and my business.
18. Other Networking Just Isn't As Good For Me
BNI, Bob Club, free events… I've been to loads of networking over the last two years. But I get more from 4Networking and I prefer it too.
I like structure, but not too much. I didn't get on with the set-up at BNI as it was too rigid but I don't like the 'do what you like' side of free networking. The set-up at 4N is just right for me. I can be myself but I also have a focused meeting.
19. 4N Is Like Being In A BIG Business With Many Departments
In 4N you meet so many experts and amazing people who do so many things. Because they're mostly entrepreneurs, they're happy to work with you on your projects and that gives us a great opportunity. Now we can pitch for bigger work and go for things we would've stayed away from. Now we have a pool of people to pull from – just like a really big business would have.
20. When The Chips are Down… There's Always 4N to Pick You Up 
4N is a family. The support, advice and ears to burn have helped get me through the last two years.
It's been a tough old ride, but 4N has been there for me. Members listen, the forum replies, and Brad and the team have given me words of encouragement.
I've had so much great feedback for the re-brand and new business ideas. Sometimes you just need someone to say 'Well done", don't you?
21. Facebook Is Now Full Of People I Really Know (Not Just Loads Of Old School Mates)
I connect with all the 4N members and visitors that I have contact with. My Facebook is now 50-60% 4N… and I really like it.
Now I can comment on threads and take an interest in people I really do know and people I will see again very soon. It's totally revolutionised my Facebook (and it's pretty good for business too!).
And the biggest thing I've learned…?
21 And A Half:
All The Answers You'll Ever Need to Make 4N Work Are There… It's Down To You!

One thing 4N doesn't do is keep the secret of how to make it work for your business.
There's information and helpful tips EVERYWHERE!
All you gotta do is watch Stef's videos, read Michael's posts, listen to Brad's advice, go on the forum, and speak to team members. You'll have everything you need –  but you gotta go and make it happen!
There's no point in listening to all the advice out there and ignoring it. It does work, your business will benefit if you do it right, and you'll enjoy it more too.
4Networking has been one of the best decisions I've made in the last three years and I'm going to let you into a little secret…
I didn't like networking. In fact – I hated it!
I nearly didn't join 4N as Jo is much better at talking to strangers than me. I'd rather be behind a computer, and those who've seen me 4Sight or do a 4o seconds probably won't believe me, but it's true!
4N was a big leap for me and something I promised Jo I'd make work. 100 meetings on, Group Leader of the UK's biggest group, I can say I did it.
Photography from Jonathan Jacob Photography and Popup-Pix.
---
Tags associated with this article
4N
4Networking
Marketing
networking
Social Media
Post a comment
We'd love to know what you think - please leave a comment!