Friday Digital Roundup
The Friday Digital Roundup is a witty take on the weird world of the internet. With fun stories from around the globe, it's the only email newsletter you'll actually read and enjoy!
We do love writing it, but clearly not as much as people like receiving it - just look at the response we got when a technical hitch meant it wasn't sent out on time!
David Morphew @DavidMorphew
I didn't receive the Roundup. The Roundup comes on Friday. Therefore it can't be Friday.
Geraldine Jones @EWC_wordsmith
No digital round-up this week?! My breakfast just wasn't the same without it :(
Helen Taylor @HelenTPermCos
It's the only way to start your weekend and end the week! Miss it, miss out!
Get the Friday Digital Roundup and see what everyone's talking about.
We may look like cowboys, but we'll never abuse your data! Find out what we'll do with it here, partner.
How to Post a Link on Facebook Without the URL 2020
Have you noticed that you can now post a link on your Facebook status and then delete the link and leave just the nice image and text box that it auto-generates?
It's all down to some clever code that Facebook pulls from the website but you don't need to understand all that shiz… you can have pretty links on Facebook in two easy steps!
It certainly makes your social media posts look neater and more like the Facebook Ads format.
How to Post a Link on Facebook Without the URL in 2020
[Updated March 2020]
How to post a link on Facebook without showing the URL:
Just paste the link into your status and wait for the link to load.
Wait…
When the image and text appear just delete the link and write your update. Simples.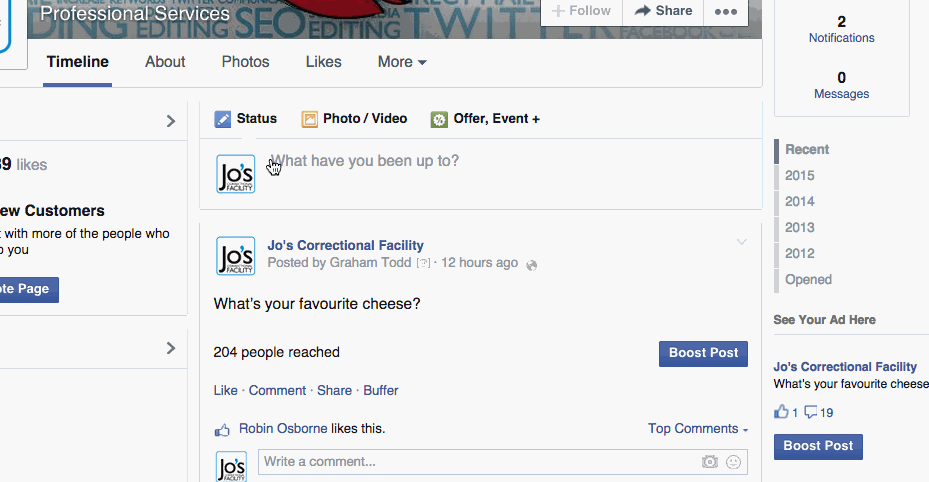 The end result is a post that looks like this:
2020 UPDATE: Facebook seems to do this automatically now. Try this:
Paste in in the link.
Wait for the image to load.
And post
The link won't show on your post most of the time. Failing that, just do it the old way as above!
We really like this feature as it makes your posts look cleaner and more professional. Give it a go and let us know how it goes.
---
Tags associated with this article
Facebook
Post a comment
We'd love to know what you think - please leave a comment!