Friday Digital Roundup
The Friday Digital Roundup is a witty take on the weird world of the internet. With fun stories from around the globe, it's the only email newsletter you'll actually read and enjoy!
We do love writing it, but clearly not as much as people like receiving it - just look at the response we got when a technical hitch meant it wasn't sent out on time!
Meschi Consultants @MeschiConsult
When it comes to the end of the week, there is no better way to start a Friday than with a run around the internet with Todd and Jo in the FDR. Just don't let them know I do it from the loo!
Kathryn Lynch-Smith @KikikatSmith
@Spaghetti_Jo
My inbox is full of rubbish newsletters that Im constantly deleting😬 My VIP inbox is for 1 thing only- THE DIGITAL ROUNDUP🤠I dont read a Newspaper or the news online, I just wait for Fridays, when this lands in my inbox- then I know 'The weekend has landed'🤗
Get the Friday Digital Roundup and see what everyone's talking about.
We may look like cowboys, but we'll never abuse your data! Find out what we'll do with it here, partner.
Monday 11th December 2023
Why Can't I Share My Business Page On Facebook (Solved)
We manage social media accounts for companies and it's just come to my attention that Facebook Pages are sometimes not able to share other Page's posts.
So if you see a cool update from another business you're now unable to share it to your audience for some business to business kudos.
Looking at the forums it's a massive problem and something Facebook will be looking into. But until then, here's a cool workaround to keep you sharing posts and helping each other out on Facebook.
?Looking for ways to share your business page? Find them here.?
Why can't I Share my Business Page on Facebook (Solved)
Here's how sharing a Facebook Page post should work
Click share on the page post
Click on 'Share on a Page you manage'
And you're good to go with a new post!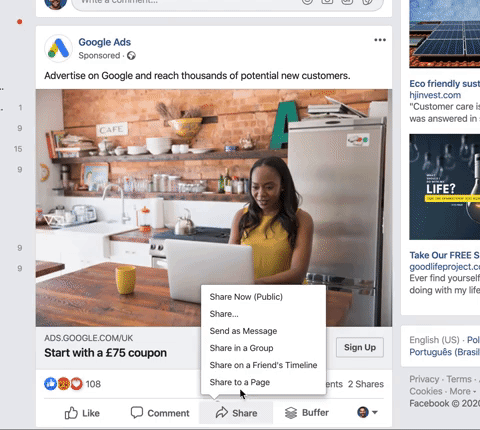 Not working? Here's a simple workaround until Facebook fix it
To share the post of the Page go to the actual post by clicking on the date or time that it was posted (this ensures that you have the exact URL of the post).
Then copy the URL from your browser (Select all and copy to your clipboard cmd + A cmd + C on a Mac or simply highlight all the text and right-click and paste).
Then click on your home or logo from the top bar and start a new status update.
Paste your URL into the new status. Wait for the image of the post to upload and then delete the messy URL (the post will still link).
Now write a short intro or whatever you were going to post in front of it so that your audience understands the share. Make sure you also tag the Page by typing @ and then the page name, so that they know you shared it.
And voila! You've shared the post as a status update and the Page owner will still know that you've shared it too.
How to share a business page post from your Facebook page – 2021 update
With News Feed and some other major updates we felt it was time to add a simple update to this annoying issue.
Got to any page you want to share a post from
Click the time/date it was posted
Click share to your page from the next screen (video below shows you how)
How to share a Page post to your Personal Facebook when Facebook just shares the page, not the post! – 2022 update
Here's an annoying one. Some people report that when they share a page post Facebook simply shares the page itself, not the individual post. Good new if that's you – here's a simple workaround.
1.Head to the post on desktop
2.Click on the time the post was shared:
3. Then copy the link from your browser and then paste it into a new post like this:
Hope this helps and I hope that Facebook fix this issue really soon!
---
Tags associated with this article
Facebook
Facebook Pages
Post a comment
We'd love to know what you think - please leave a comment!