Friday Digital Roundup
The Friday Digital Roundup is a witty take on the weird world of the internet. With fun stories from around the globe, it's the only email newsletter you'll actually read and enjoy!
We do love writing it, but clearly not as much as people like receiving it - just look at the response we got when a technical hitch meant it wasn't sent out on time!
Meschi Consultants @MeschiConsult
When it comes to the end of the week, there is no better way to start a Friday than with a run around the internet with Todd and Jo in the FDR. Just don't let them know I do it from the loo!
Kathryn Lynch-Smith @KikikatSmith
@Spaghetti_Jo
My inbox is full of rubbish newsletters that Im constantly deleting😬 My VIP inbox is for 1 thing only- THE DIGITAL ROUNDUP🤠I dont read a Newspaper or the news online, I just wait for Fridays, when this lands in my inbox- then I know 'The weekend has landed'🤗
Get the Friday Digital Roundup and see what everyone's talking about.
We may look like cowboys, but we'll never abuse your data! Find out what we'll do with it here, partner.
Here's why you need to get Google+ for your business
As a social media manager, Google+ is a bit of an irritation to me. Twitter and Facebook need no selling at all. Their reputation precedes them, they need no introduction, and businesses know can benefit from them. Google+ is different though, and there's an air of uncertainty that surrounds it: "How will it benefit my business? Why should I invest time and money into this new kid on the social media block?"
This week Vic Gundotra announced he was leaving Google. Vic Gundotra (Vice-President of Social at Google) announced his retirement from Google and the Google+ team via his own Google+ account. The usual rumour mills started to churn, along with the usual talk about the break up of Google+ and how it was a ghost town and that it was being dropped by Google.
So Google integrate Google+ into all their products and then drop it because of a change in the dynamics at the company?
I don't think so. To me this changes just the dynamic of the team behind Google+, not the commitment that Google have put into their social network. I can't see anything but good things for Google+ this year and the integration into many of its key products just strengthens my belief in it.
Here's my view: Google+ is going to explode this year (it has already, but I mean go more mainstream). The benefits of Google+ far outweigh the cons but there in itself lies a problem.
Google is just too darn clever and complicated
I love Google and despite being an Apple user I follow as much as I can about them. I was over the moon when I recently visited Google UK in London and I'm a Matt Cutts fan/follower too.
But that said, Google is very VERY complicated. Anyone that's ever tried to read the online help documents will know that they do struggle to convey their message. I'm an out and out geek, but I struggle with the style of their output.
Google is brilliant at what it does, but it's not so brilliant at explaining it!
Take Adwords for example. I run accounts for people who simply can't get their heads around the massively complicated navigation and plethora of options for advertising on Google. It's brilliant what you can do, but it's often overly complicated for the everyday user.
If you've ever tried to manage a domain on Google Mail, adjust setting in YouTube, set up a simple Adwords campaign or set up Google Places then you'll know what I mean – Google could overcomplicate making a slice of toast!
It's incredible what they do and what we, as marketers, can achieve from the awesome internet superpower. I love Google+ but I feel it's tainted with the hugely complicated and incredibly advanced system that comes with being the spawn of Google.
But Google+ is awesome and when people finally catch on and get past the incredible technical upbringing it's had (or they make it simpler?) it will be the platform to be on.
So, here's why Google+ needs to be part of your business
Google+ is owned by Google
Simple. Google is huge and it runs the show when it comes to search. When you share content on Google+ it helps it rank on Google. When someone adds you to their circle on Google+ you will appear higher up in their search results than others. When you get interaction on Google+ with your content it directly affects the authority and rank of that content – social signals for search are strong from Google+!
Google own YouTube, Google+ Places, Gmail, Google Docs, Google shopping…
Let's not be naïve here; Google is a global superpower and it owns many of the products that we use. Sign into Gmail and you're signed into YouTube, Google Analytics, Adwords, Places, Google Docs, Google+ and many of its other products. Did you know that? By integrating it all together you're never far from Google+. The notification bell is always in the top right of your computer screen and that will mean people never forget to check their Google+ account. I'm confident that will ensure constant use and that's a seriously powerful weapon.
Google Authorship
If you haven't heard about blogging and adding Authorship, you need to. If you're aware of Google Authorship but you haven't yet set it up, get your ass in gear.
Google Authorship is one of the biggest things to happen to the internet in my career – simple. I'm a blogger and I share mountains of content online. Plagiarism of that content has always been a worry… until now.
Google+ allows you to assign your account to your content so that you, and only you, own that content. Google knows you wrote it and any kudos earned will go to you as the writer. It also means that if someone steals large chunks of your text that Google will always give you the better position in the search over the content thief and that they may well be given a penalty for doing so.
Authorship and Publisher markup (Authorship for businesses not individuals) has started the move to people owning their content and being accountable for it – and that's a move I welcome.
YouTube comments
Google now integrates Google+ into YouTube. Previously YouTube comments have been a little on the spammy side and often nothing to do with the video.
Now Google want those commenters to be accountable and part of that means that Google+ users will comment as their Google+ account.
This has two actions:
1) The commenter will share their Google+ handle and be less likely to comment in an unhelpful or offensive way.
2) The commenter will share the video they're commenting on on their profile. Cross pollination and advertising – brilliant move!

Hangouts
Not used the Google+ video call feature yet? You really do need to try it. Google+ Hangouts are really cool but they also offer a seriously powerful angle to businesses.
Holding a meeting that would be great to share to a worldwide audience? Then hold that meeting on Google Hangout. Invite people to view your product launch and even take questions from them. Host a Hangout on a regular basis and build a whole new audience.
The possibilities are endless and when you run a live Hangout it even streams your video live to YouTube and then creates a YouTube video for you to share after too – awesome!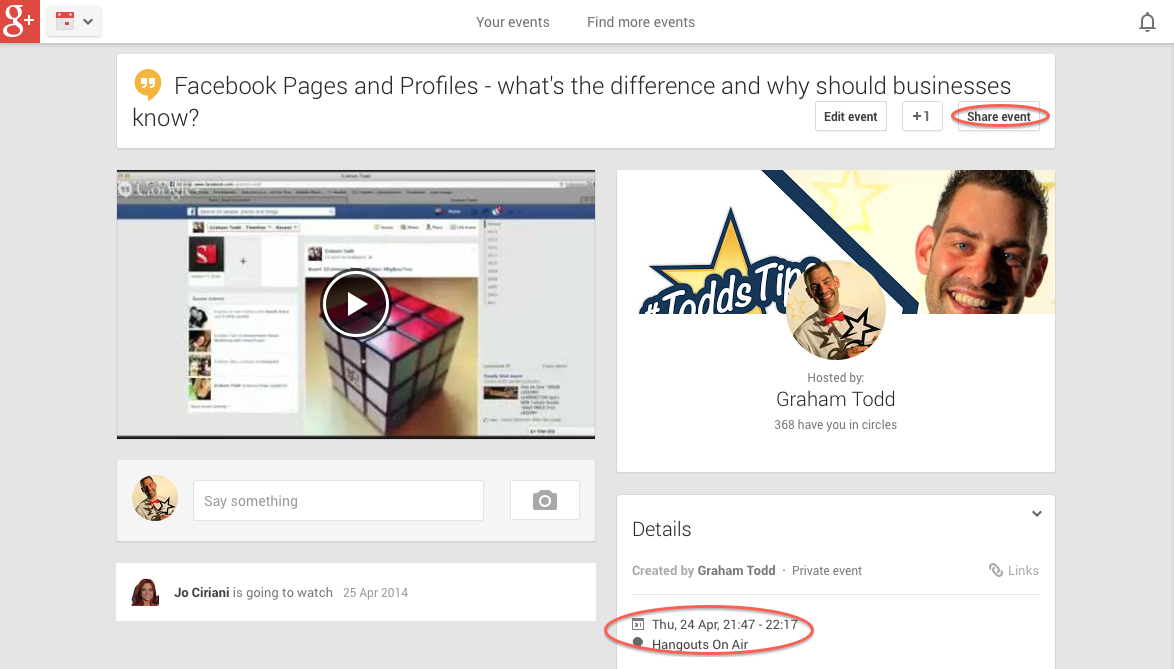 Google+ Places
You know Google Maps, right? Well you probably know Google Places. Google has now rolled out Google+ Places so that as a business you can now link your Google+ account to your Google Maps listing. In the search results this means you take up a large section on the right hand side and that people who find you online for location are also introduced to your Google+ account. Clever stuff.
Google+ Communities
Let's talk about the network itself. It's very easy to get involved with all the geekery but the platform needs to work well too. The communities on Google+ are awesome. They're niche areas of like-minded people or simply loads of people connected by a common cause. Communities are a great place to start connecting on Google+ and often it's as simple as searching for your topic. Join them, share in them and comment on the other posts. It's a great way to get somewhere on Google+.
Google+ +1s
(Yeah that's an awkward title – standard Googleisms!)
+1s are like Facebook 'likes' (heck, this is complicated to explain). Google+ +1s are like Twitter retweets. Google+ +1s are the Google+ version of liking a post. There – nailed it.
+1s are really a signal to Google and I see them as gold in the battle for search results. If you get a load of +1s on your content then you can be sure of a good position in the search. If people like (+1) your stuff then Google will see it as quality. Google only shares quality content, so that's a great way to get your content up the search!
As an added bonus (and slightly geeky addition) when you +1 a piece of content on Google+ it also adds it to the +1 counter on the website too. So when I share blogs on Google+ and people +1 them the +1 counter on my blog on my website goes up. This is another way Google is making noise away from its platform as it will look more popular on the social shares than the other networks.
"More +1s than tweets? Wow Google+ is huge!"

Google+ is growing
According to a recent Podcast from Social Media Examiner, Google+ has over 1 billion accounts. This number does include accounts for YouTube, Google+ and Gmail though but there are around 540 million active users, of which 300 million are active in the stream. So it's a fairly active social media platform.
Facebook is the biggest but you could argue that it's nowhere near as popular as it was and that the Facebook accounts owned are not as active as they were. Given the integration on Google+ with so much of our everyday lives I fail to see how Facebook can ever compete for attention over Google+.
So why should your business use Google+?
The benefits outweigh the arguments not to
The integration into everything we and others use is powerful
Google and YouTube are the top two search engines and they're directly influenced by Google+
Google Places is so important for local search and Google+ adds a whole new angle to it with Google+ Places
Google+ is constantly in the faces of Google users by adding the notifications into their toolbars. Google+ can't be forgotten so people (your customers) will use it
Google+ is shaping the internet search results. Products like Google Authorship are ensuring good quality search results so you need to be linking your content to it!
Above all else Google+ is a solid network. Even after recent news of a reshuffle at Google and the Google+ team I'm adamant that it will be the superpower on social media this year.
As reams of businesses are turned off by Facebook and their 'pay to play' tactics I can see only one platform that offers the same and more. Twitter is a great for conversation and live up-to-date information but Google+ is a rich and beautiful place that people will enjoy.
My suggestion? Get Googleplussing as soon as you can. There are people on the network with over 1M people in their circles and that's a phenomenal amount of influence. Google are huge and they won't let other social media platforms beat them. Twitter and Facebook are awesome but Google+ has a big brother on its side.
Now it's over to you…
What do you think of Google+? Has it got the staying power and the strength to beat the big guns?
Please leave your comments below or give me a holler on Google+, you can find me on +GrahamTodd
---
Tags associated with this article
Social Media
Post a comment
We'd love to know what you think - please leave a comment!