Friday Digital Roundup
The Friday Digital Roundup is a witty take on the weird world of the internet. With fun stories from around the globe, it's the only email newsletter you'll actually read and enjoy!
We do love writing it, but clearly not as much as people like receiving it - just look at the response we got when a technical hitch meant it wasn't sent out on time!
Meschi Consultants @MeschiConsult
When it comes to the end of the week, there is no better way to start a Friday than with a run around the internet with Todd and Jo in the FDR. Just don't let them know I do it from the loo!
Kathryn Lynch-Smith @KikikatSmith
@Spaghetti_Jo
My inbox is full of rubbish newsletters that Im constantly deleting😬 My VIP inbox is for 1 thing only- THE DIGITAL ROUNDUP🤠I dont read a Newspaper or the news online, I just wait for Fridays, when this lands in my inbox- then I know 'The weekend has landed'🤗
Get the Friday Digital Roundup and see what everyone's talking about.
We may look like cowboys, but we'll never abuse your data! Find out what we'll do with it here, partner.
Saturday 23rd October 2021
What I've learnt about video marketing from two years of running a national Facebook Live Show
On a cold September evening I was sitting at home with a glass of wine pondering what content I needed to create for our business.
I was sitting in our extension in my leather recliner with my iPhone in hand.
I was enjoying creating live video (and still do) and I wanted to share some content. For me, this is rarely salesy and mostly value driven, and I wanted to live stream some content.
I was working with 4Networking on their brand new Facebook group. The 4Networking community was growing and had about 7,000 members.
A few days earlier Facebook had started allowing live streaming into groups and I was trying to work out how to stop members from doing it to keep some control over the group.
I realised that the best way to do this is simply to pave the way for great content instead of dross (which a lot of Facebook live content is).
So, I sipped my wine, grabbed some cue cards for one of my networking talks for 4N and went live.
In a 4N meeting there's a section called the 4Sight slot which is where someone presents, and I love doing them. It's the reason I joined to be honest.
It's an 18 minute talk with value and insights and not a sniff of sales or pitching.
So, I decided to stream my current '4Sight' into the group and keep it on brand for 4N and stick to no sales pitch and only 18 minutes.
The result: 40ish live viewers, one of them was the network leader. Michael Nagles really liked the idea of 4Sights online and on October 15th 2016 he launched a brand new show – #4NTVLive.
It turned two years old just recently and I streamed a show giving the findings, tips, and advice about video that 4NTVLive has taught me and I wanted to share them (and that video) with you here.
So… here's what two years of online video marketing have taught me.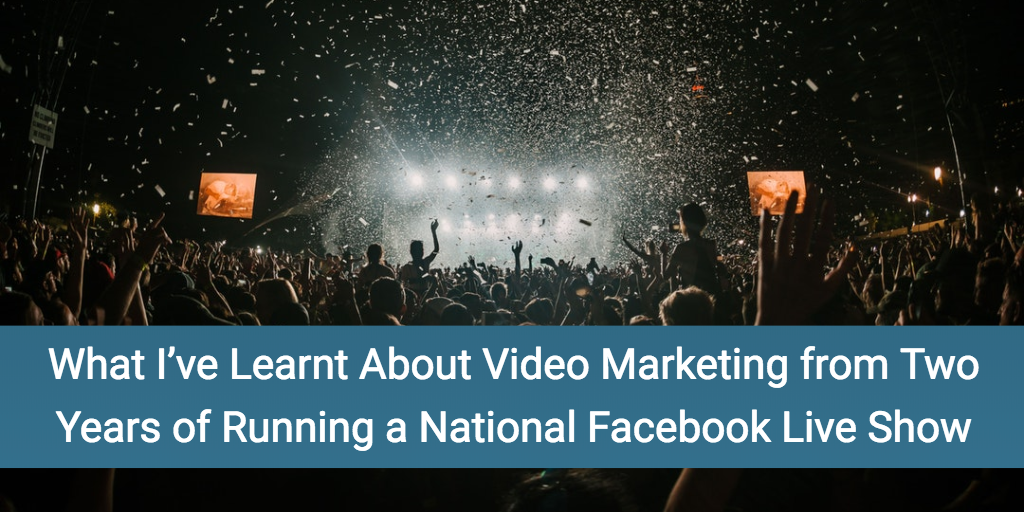 What I've learnt about video marketing from two years of running a national Facebook Live Show
"It's great to finally meet you"
I get this a lot. I do a lot of networking and at those meetings almost every time, someone will walk up and say something like, "It's great to finally meet you. I've watched your videos". How awesome is that?
Video is a powerful way to build rapport online due to the engaging nature of it. It beats text, images, sales posts, shares of your blog, and almost anything you can post on social media.
Video, intimate value-driven video, really does create a connection before you even meet.
Be yourself though… so that they meet you, not an online persona!
It doesn't have to be perfect, but try to make it good enough
Video is notoriously hard to get perfect. You could argue nothing's perfect. So, please don't let a desire for perfection stop you from creating video.
One of the videos – actually the most popular video from the show – wasn't perfect at all. The presenter's phone even fell over half way through it, and they weren't prepared at all as I threw them into it.
But… people watched it and took action.
One of the most 'unprofessional' videos I've ever done netted me a client who spent over £1,000 with us.
It was raining, I had no mic, no lighting, and my daughter was strapped to my front in a sling. It worked better than a green screen video I created to market a product!
Better done than perfect.
Sound matters
The light and your make-up doesn't make a great video, but the sound does.
Please get the sound right. If we can't hear you or the people in the video, the chances are we'll leave and scroll on.
Sound is pretty easy to get right. I always advise live streamers to buy a cheap lapel mic or simply use their smartphone headphones as they work just fine.
Avoid wind. How annoying is that blustery sound?
Make sure the voices can be heard over background (mics and headphones massively improve this).
Speak more slowly than you think you need to. It's hard to keep up with recorded voices.
Don't have too many notes
Some of the streams I've seen have too many notes, too much script, and too much holding the presentation back.
Just have some bullet points on a post-it note stuck to the bottom of your phone or on your tripod.
If you try to read a script you'll sound wooden and nervous and your audience will pick up on it.
Just having a few pointers/reminders on a note very close to the screen (to save you looking away to much) will help you to appear to be more natural. It sounds scary, but unless you're doing the content for someone else's business, you know it all already.
Looking around the screen is annoying
It can be really distracting when the person on camera is looking away constantly. That's why a script or notes tend to detract from the video.
Simply put: if someone is always looking away from the screen that you're watching you feel like you're missing out! It's not as focused on you, the viewer. Try to avoid it.
Get to the point! (Add some extra value for the replay!)
Seriously. Video is tough because no one has time to watch it. If they click on your video, make sure they get value/content right away.
The average time you have to capture attention is seven seconds. So… "Um… er… I'll start in a bit… just need to get this to do that" doesn't cut it.
Press live or record and go!
You don't have to go live. Two minute tips or content work just as well
Oh… and you don't have to go live. I find that my pre-recorded and uploaded videos get as much if not more interaction than the live videos.
Does it need to be live? 4NTVLive does as there's some audience participation involved and it's more like a meeting, but your content might be fine as a two-minute short clip.
You don't have to go live.
LinkedIn loves video, but don't JUST do video
Yes! LinkedIn video is hot. It gets more eyeballs as LinkedIn wants to push video… but don't JUST do video.
What about your connections who only want to read? What about the people who are skimming on the train or at work and can't listen?
Yes you could add captions but even then, there are some who won't watch.
So – create text versions of your videos.
A really simply way to do that is to record the video, add to YouTube, and then send to Rev.com for a transcript.
Have a bleeding point, PLEASE!
"I thought I'd pop on here and share my fridge, my view, my cat." FFS.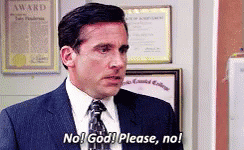 The video you do now could be the first time that that great future lead decides to watch so please make all of your videos as interesting as possible.
No, perfect doesn't exist, but shite does.
Have a point. Give value. Get to the point fast and please don't 'just hop on because you though you might chat or something."
… Seriously. You might not get another chance for someone to think, "Their videos are good, I'll watch more".
It's not expensive, but get a mic and a tripod
Video marketing with a smartphone is inexpensive. Get a mic or headphones, a tripod to stop shakey videos, and maybe invest in some softbox lights if you have a dark room or office.
My whole kit cost me around £50 and we've generated thousands of pounds worth of paid business from it and countless more leads and customers.
It's not expensive, but please spend a little to get it looking and sounding professional.
Car videos are OK, actually
Do you know what, I'm going to backtrack here. I did say (back in the Persicope days [LINK]) that car videos were a bit poo.
I'm going back on that.
They're better than most videos I see from smartphones and they're better than nothing (as long as you're adding value).
The thing is: doing car videos gives you a ready made, great sounding studio.
The sound and light is pretty ideal. Just think how great your music sounds in your car.
The glass reflects the sound and gives you a great all round light cast onto you (in the day time) but obviously please don't record video whilst you're driving, especially live video.
Best 4NTVLive videos?
Here's why the top six videos did so well:
Shared into lots of groups and picked up by other marketers in the niche.
Active members of the community did better than non-active people. Share content where you usually share content or have a reach already or of course work on your authority.
Many of the top videos were shared and then re-shared a lot. Two of them were shared years later.
Heavy pre-video promotion. Promoting your video – especially live video – is key to high views and engagement. Even a YouTube video upload can be an occasion, right?
Controversial content or content that's rarely talked about gets views. Be different, push the boundaries. Go for the topics most won't. You don't have to polarise your audience, but don't be beige!
Create a great title! Titles encourage clicks. Don't be "So and So Was Live" or "Something Random I Thought About" – be descriptive! Look at the title of this blog. It describes exactly my intentions for the content and the benefit you'll get from clicking and then reading it.
So there you go. These are my video tips gained from two years of running a national show.
Over 50 hours, 100 presenters, countless comments, aha moments and more have taught me that value, time, lighting, sound, and a natural style give the best video.
Need more help? Comment below and I'll do my best to give you more support.

---
Tags associated with this article
4N
4Networking
Facebook
Facebook Live
Marketing
Social Media
video
Video marketing
Post a comment
We'd love to know what you think - please leave a comment!