Friday Digital Roundup
The Friday Digital Roundup is a witty take on the weird world of the internet. With fun stories from around the globe, it's the only email newsletter you'll actually read and enjoy!
We do love writing it, but clearly not as much as people like receiving it - just look at the response we got when a technical hitch meant it wasn't sent out on time!
Meschi Consultants @MeschiConsult
When it comes to the end of the week, there is no better way to start a Friday than with a run around the internet with Todd and Jo in the FDR. Just don't let them know I do it from the loo!
Kathryn Lynch-Smith @KikikatSmith
@Spaghetti_Jo
My inbox is full of rubbish newsletters that Im constantly deleting😬 My VIP inbox is for 1 thing only- THE DIGITAL ROUNDUP🤠I dont read a Newspaper or the news online, I just wait for Fridays, when this lands in my inbox- then I know 'The weekend has landed'🤗
Get the Friday Digital Roundup and see what everyone's talking about.
We may look like cowboys, but we'll never abuse your data! Find out what we'll do with it here, partner.
What Makes a Great 4Sight Talk at a 4Networking Meeting?
One of the main reasons I joined 4Networking back in 2014 was to use the 4Sight slot to speak. The ability to book into any meeting in the UK and also be the speaker appealed to me. It still does.
Speaking at venues all over the UK has made me a better speaker and given me the chance to speak on bigger stages, get paid to speak, and nail pitches in front of clients. I've spoken at business shows, conferences, and networking events outside of 4N thanks to my 4Sighting and the skills I've learnt as a speaker presenting them.
The more you do, the better you'll get. I firmly believe that speaking is a powerful (and essential) tool for a business owner, marketer, and salesperson.
4Sighting works. It's fabulous marketing and brilliant lead generation and I get asked to do it a lot. (It's a great honour to be asked as when I started, I was begging for slots!) I get some brilliant business from 4Sights.
But what makes a great 4Sight? What helps your 4Sight to help your business?
As well as giving a fair few of them I've also attended over 300 of them. Many of the ones I've seen were great, some not so, some… awful!
That said, my first wasn't my best and everyone has to start somewhere.
So here's how I create a 4Sight, what I believe makes a good one, and some tips and advice from people in the 4Networking community to help you create, market and present the best 4Sight possible.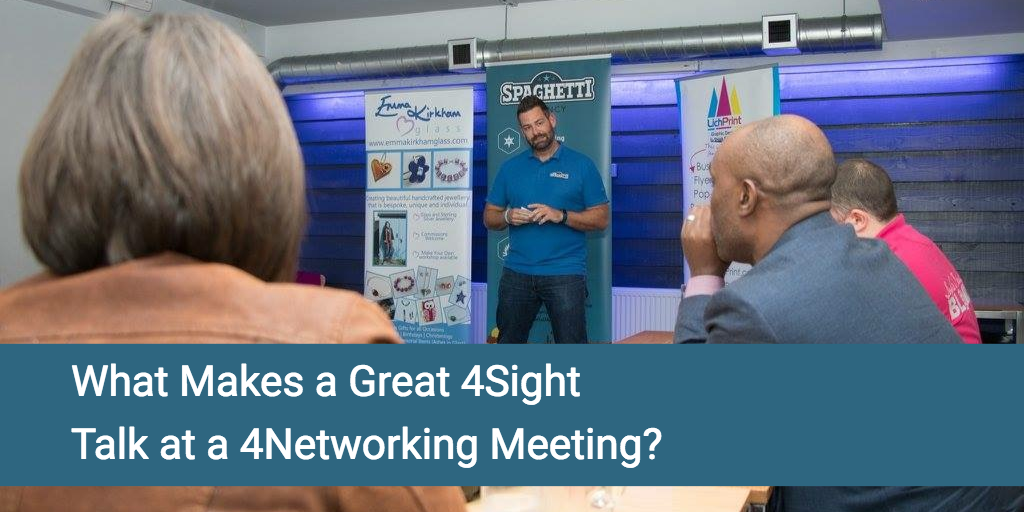 What Makes a Great 4Sight Talk at a 4Networking Meeting?
What can I or should I talk about?
The topic of a 4Sight shouldn't be a sales pitch, but as the script says "An insight". It can be an insight into anything and when you get it right it's the best pitch you'll do in 4N!
Don't sell; tell!
Make sure you offer some really great value in whatever you share. 4Sights are at a time when the room gets shuffling in their seats and checking their phones. You have to engage and keep their attention for that 18 minutes and you can do that in many ways, but adding great value is one of the ways I do it.
Go all out! You're proving you know about your topic or (if you're telling a story) selling yourself to the room. Don't hold back – nail it!
When it comes to content, you can talk about whatever you want to, just make sure you give some seriously good value and content.
Should my 4Sight be a story or tips about my area of expertise?
This question is asked a lot in the network and the simply answer is: "It doesn't matter". You can do either or both combined if you like. But there are some very subtle and sometimes powerful differences between the two so I'll cover both here.
The life story
I've done these, I've sat through these, and I've seen loads advertised in the network. The life story is great for a few reasons:
You can inspire and motivate your audience.
You'll show more about you (and people do buy from people, right?).
The topic of the talk might be more interesting than your business.
Life stories are often be easier to present as it's a topic you know well.
The life story can be inspirational, motivational, shocking, interesting, topical, punchy – really whatever you make it. The best part for me is that a life story really opens you up to the room and lets your fellow networkers get to know you. It shows vulnerability and allows your personality to shine through.
That's what networking is all about!
The tips and tricks talk
Stories work, tips convert. I've found that the tips and tricks talks position me as more of an expert. Showing you know your stuff with a talk about the very thing that you sell is powerful.
Give your all and create some really great value here and you'll have a queue of people asking for a chat and asking for a call about your services. This has happened countless times for me (and for Jo in other networking talks) and I recommend that you create content that really does give some indication that you're incredible at what you do.
A really simple way to create a 4Sight like this would be to:
Take out a section of a workshop or training webinar and present it.
Use a popular blog and turn it into a 4Sight.
Take a popular question in your business and answer it.
Take several questions and answer them all!
Listen to your audience and industry and share the secrets and must have knowledge.
Be able to answer questions about your topic or help people out after the meeting.
Recently (at the time of writing this in 2018) the topic of GDPR was powerful for anyone In the IT sector. Everyone wanted to know about it and those who gave 4Sights on it gained some good ground.
Essentially though, pick an area of your business that you know people are confused about, need help with, or one that you know fits perfectly in your marketing funnel.
I give one about creating content. I do this because I create content for clients and I run workshops to show you how to create your own content. It's ideal lead gen for me although I never mention the workshops etc. in the talk, as that's not allowed. If people want to know more they can ask me afterwards and I can run through the options.
What's best? Mix them…
Either:
Create a story mixed with tips.
Give talks on your story, and then one about your tips in the network (different talks).
Personally I love a 4Sight that starts with a story and then gives some tips on business based on the learning from that story and is then interspersed with more short stories. It keeps people interested.
The more you do, the easier you'll find referencing a short story at any point too, and that's the stuff of great talks!
Be energised about your subject
Your energy needs to fill the room. Seriously. I won't go all woo woo on you here (much) but your talk can lift (or drag down) the room. To leave an impact on the meeting with your talk you really do need to be energised about your talk.
I try not to say 'be passionate' about stuff in your business as being passionate about widgets, pension plans, or car insurance is a slightly strange to say – but try and allow your enthusiasm to come across.
Quite simply, talk about something you're really excited about and something you can be really energetic and enthused about when you present it. You'll win the room, you'll gain the attention, and you'll make an impact. That's the stuff of truly great 4Sights!
Don't be the energy sucker – be the plug socket for their day!
Be yourself
Don't fake it. Be you. It's far more engaging and you'll find it easier to be yourself, too.
You're you all the time – you've practiced a lot! Being yourself sends the right signal to the audience and it helps them get to know you. It's also the best and first tip I got about 4Networking from the founder, Brad Burton.
"Be YOU" Brad said when I had a 121 with him back in early 2014 and I have tried ever since. Being yourself in your 4Sight talk lets the people who get you get to know you more and yes it will push the people away who don't like you, and that's fine.
It sounds crazy that a talk in a networking meeting should turn some people away from you, but it can and should.
I'm not suggesting that you deliberately upset people, but just be yourself and attract the right types to you. Life and business works so much better when you have the right people around you and an authentic 4Sight talk can go a long way to help you do that.
I know when I present that there are some in the room that don't like me, hate me, or switch off. But I know a lot more of them tune in, take photos, and ask me when my next workshop is!
Be YOU (everyone else is taken).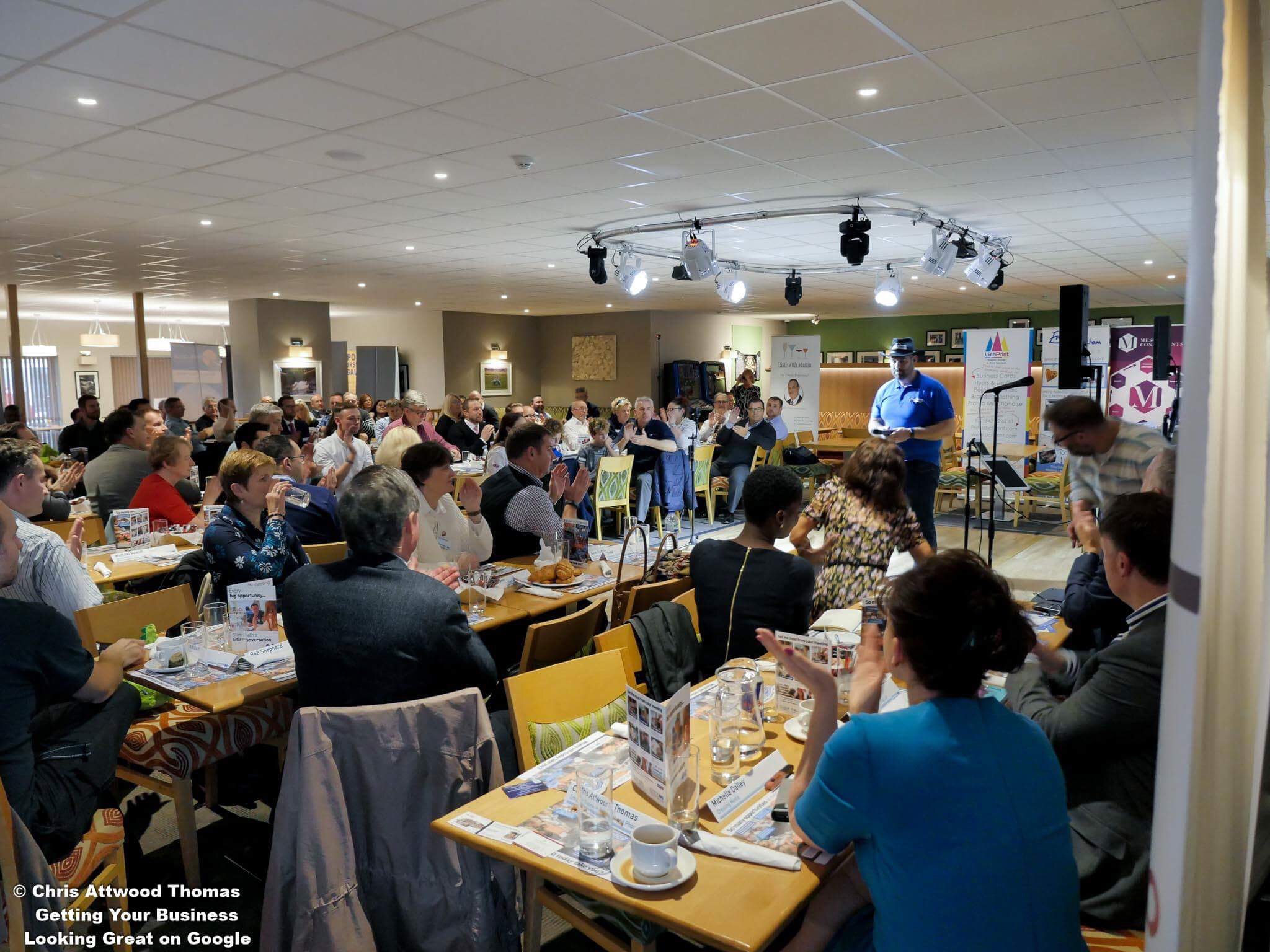 Have a point
… OK, lecture time.
Please DO NOT give a 4Sight that's a rambling mess and really doesn't ever get to the point. This is an 18 minute presentation, not a brain dump.
Work out first what it is you want to leave the audience thinking about at the end:
Decide what problem you're solving and solve it.
Make a conscious decision to leave the audience knowing what to do next.
Leave them wanting the next chapter.
HAVE A POINT!
It doesn't have to be a lot of points; just one is fine. Three takeaways is great. Some food for thought works well. Just don't ramble for 18 minutes, run out of time and say, "Oh… that's it, sorry I ran out of time". I've seen this and it's not very tidy. It doesn't give the impression that you're much of a planner.
Have a point and work your entire content towards that point.
Prepare something in advance
Please don't 'wing it'. I've given over 50 4Sights and I never rocked up and just winged it. I could honestly do that now, but I won't. You need to have a point, some takeaways, some structure, and some idea of how all that fits into 18 minutes.
Don't wing it!
Plan it out (I prefer paper and some highlighters) and get the structure sorted. The talk should have a beginning, middle, and end and your talk should fit into the time assigned for it and also make you look good.
Prepare it, learn it as much as you need to, and then present it to the room in a relaxed and professional way. Being prepared really helps this.
Before my biggest 4Sight ever (in front of over 100 people) I PRACTISED. Yup, I knew what I wanted to say, I knew the areas I wanted to cover, and I knew how I wanted it to go… so I practised.
The actual talk was nothing like the practice though, but that's ok. I was controlled, concise and professional BECAUSE of the practising and the point. The point I wanted to leave them with – landed pretty beautifully and it's even been quoted by people since.
Prepare, practise, present.
4Sight structure
Your 4Sight will work better with a structure and I'm going to share with you the structure I find works for me, and many others.
It's really quite simple:
Have a start.
Have a middle.
Have an end.
Have a point.
Simple, eh?
"Tell 'em what you're gonna tell 'em,
Tell 'em,
Then tell 'em what you just told 'em."
(And leave them with a point!).
One of the best things I learned about speaking was from a 4Ner, Michael Trigg. Michael's system is simple and follows that structure, but the essential part is the beginning.
When you frame the beginning well, you get the audience hooked from the start and they follow you along through the talk.
Essentially you need to map out what you're going to share. Here's how he does it:
Give a quick story or statement with the introduction of a problem you'd like to solve/address and then say…
In this talk I will XXX.
I will do this with A, B and C.
This will help you do XXX.
And then during the talk move from A to B by telling them, "So, that was A, and now I want to talk about B". This signposting is a great way to create and present a talk. Although I don't always do it 100%, the intention is there and it certainly frames the talk towards the point. It has to be relevant for the listener. You gotta have a point!
Check out Michael's Ovation app for more information on this method.
Add a call to action
Within the 4N 4Sight you can't sell your stuff or pitch at the end but you need a Call To Action.
Just like in a blog or web page, have something at the end that calls for action. It could be a quote you like that fits the talk, an idea for the audience to try next, a summing up of the main points of the talk, or simply a nice simple and concise ending to leave them thinking.
But make sure you have an end. Don't crash into nothingness at the end. It's very icky when that happens. Have an ending where when you say it, you get applause as it's really obvious you've finished! This can be 'the point' or it can be a thought or further action, but it must feel like the end.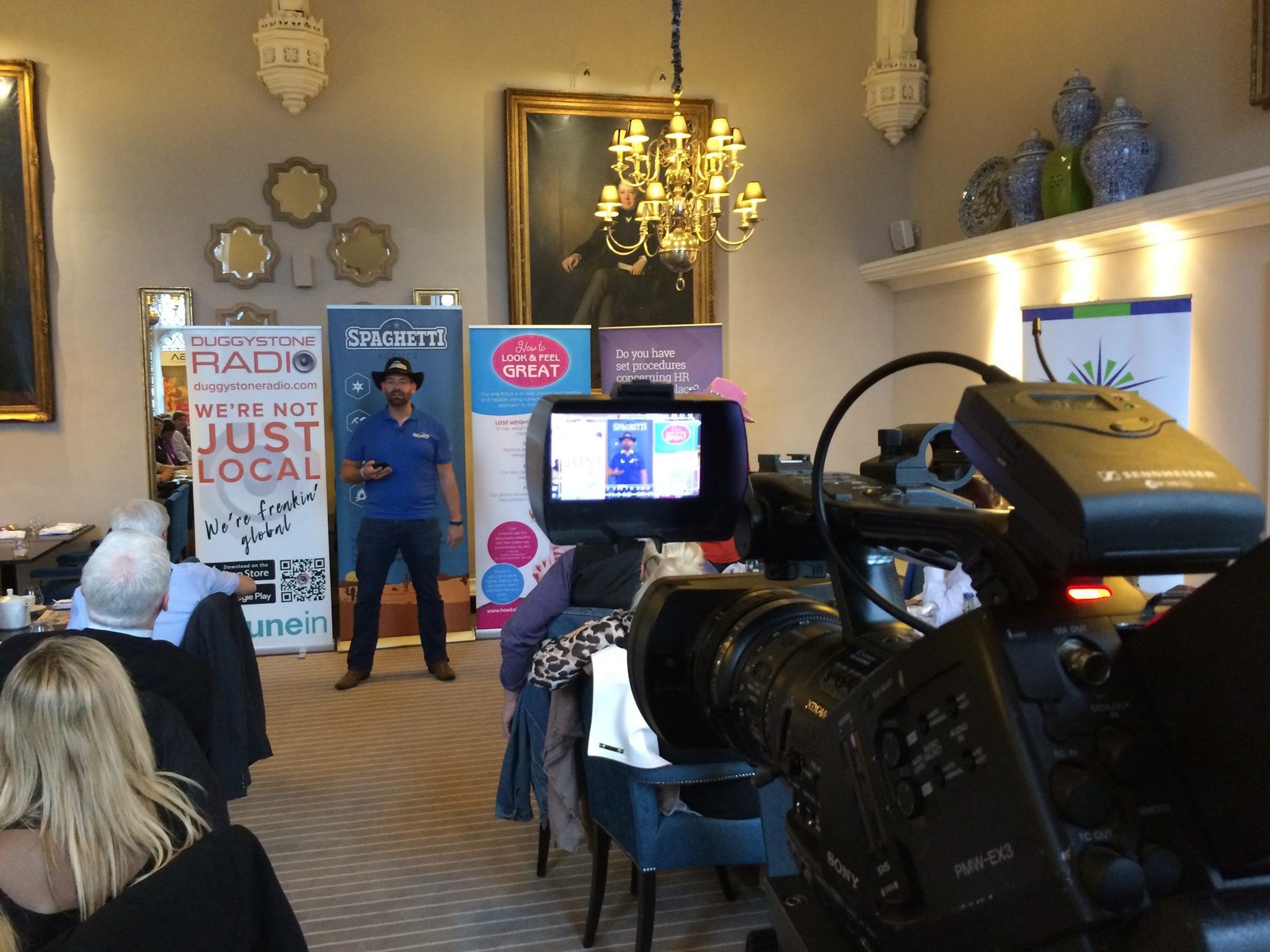 Cue cards help you present and be present
Now you have a great talk, create some simple cue cards to help you stay on track and focused. Don't print it all out and read it, that's dull and it won't help you present it. Using cue cards gives you a simple road map for the talk to help you make sure you have structure, and a strong ending of course.
I generally use small business card size cue cards or a series of one-liners from my iPhone notes to help me maintain my 4Sight's structure.
Create a great title and description
Now that you have a great talk set out, you'll need to get people to it. Yes, it's down to you as much as it is the team running the meeting.
The title and description which sits on the website to show your talk goes out on emails for bookings and confirmations, and is then used by most teams to market your meeting. It's therefore quite obviously important.
Don't put some drivel or any old rubbish you think of. Put some time and effort in to the title if you want to get an audience there. Put meaning, benefits, intrigue, feelings and emotions, and/or buzz words into your title and then create a truly magnetic description.
You want people there, right? Well the title and description of your 4Sight is the billboard for your talk. It's the marketing cornerstone. It's the promotion starting point.
Get a great title and description created.
Here's how I do it…
What do I want to leave them with?
How will I do this?
What's the benefit of listening?
What's the pain I'm fixing?
What will happen if you don't listen?
I want to explain the 4Sight, the problem I'm addressing, how I'll do that, and what you'll get from it and how you'll feel all in one if I can.
It's not always possible but the way I look at it, your title could be the only thing they see so it needs to explain and sell the talk in one go.
My most popular 4Sight at the moment is this one:
CONSTANTLY CREATING CONTENT
Why you should and how you could create content to market your business and the ideas generator that keeps on giving…
Catchy, descriptive, intriguing, added benefits, and the promise of something at the end. This is just one example and is far from the best, but it's working well for me right now.
Marketing – be active online
Moving on from the title, you can now move onto marketing your talk. You're going to give some great advice and insights – you'll want people there, right? So, head to social media and online forums and groups and market it.
I generally market my 4Sight talks to my own list as well as the 4N network. This works twofold:
Your own list might need a free (inexpensive way) to build more trust with you.
Your networking meeting could also provide new leads and clients and has a warm audience in it.
Getting people from your own circle further adds to your imprint on them and driving them to your talk from the 4N network can start new relationships or again further the trust building with them.
Be active online. The 4Networking Community Facebook group is the best place to do this at the time of writing.
Make your 40 seconds a pitch that ties in
Now, although you can't pitch in the 4Sight, you can in the 40 seconds round. Something I've played with in the past is creating something that the audience can go and download after the talk or an offer for anyone interested in my after my talk and use this in the 40 seconds.
For anyone unfamiliar with the 40 seconds round, it's where each meeting attendee gets to stand up and speak about their business for, you guessed it, 40 seconds.
Joining the two up might work like this:
A talk on creating content – a 40 seconds on a creating content workshop.
A talk about social media – a 40 seconds about a free social media download.
A talk on Adwords – a 40 seconds about our Google Ads services.
Simple, huh?
4Sight presenting tips
I don't profess to be a public speaking coach, but I teach what I learn. I've learnt a lot, read up a lot, and learned from other talks what seems to work.
So, here's what I add into a 4Sight talk presentation.
Smile at start and stand with an open stance.
Breathe deeply before you begin.
Don't pace about.
Don't read it all.
Frame how the talk will go and signpost the sections as you go through them.
Present it more slowly than you think you need to.
Pause. Pausing after key points is powerful.
Look up, look at people, smile and engage with them.
Present it, don't give it.
Add in highs and lows to your voice. Decrease the volume and increase it when it suits.
Be you, be energised and be passionate (yes, even about accounting!).
Leave time for questions at the end. The slot is 18 minutes, so aim for 16 and get some audience engagement going.
Give a proper ending. After the questions or simply at the end of the talk, finish on a strong point. A quote is great for this or a one liner.
Get any photos taken of the 4Sight sent to you so that you can market your next talk with them.
… Oh, and enjoy it! When you enjoy it the room picks up on this and then you'll get a warm feeling of love and appreciation that further helps your talk.
Above all else… aim to please the audience
The 4Sight talk is about them, not you. Solve a problem or give value on a topic that will help them. Frame your content towards them and help them understand what the talk is about. Walk them through it with a good pace, energy, and some simple signposts.
The 4Sight is a fabulous opportunity to stand out in the meeting and the network, and I've been very fortunate to get a good few under my belt.
A good 4Sight is not an accident though; it's all planned.
Focus on the message that you want to impart on your audience and present it with excitement, energy, love and care. This is part of your business, your marketing and it's part of you. Take it seriously enough to give it some time to create and practise.
Need more help? I'd love to chat in the comments below.
Years in 4N have taught me a lot about public speaking and I've also been asked to speak at three of the biggest 4Networking meetings ever. I'd like to think that could help you and your business so if you have any questions just ask.
Good luck!
Oh… and here's one I presented earlier. Thanks to Luke from Imago Film for creating this cool edit!
---
Tags associated with this article
4N
4Networking
networking
networking events
Post a comment
We'd love to know what you think - please leave a comment!