Friday Digital Roundup
The Friday Digital Roundup is a witty take on the weird world of the internet. With fun stories from around the globe, it's the only email newsletter you'll actually read and enjoy!
We do love writing it, but clearly not as much as people like receiving it - just look at the response we got when a technical hitch meant it wasn't sent out on time!
Meschi Consultants @MeschiConsult
When it comes to the end of the week, there is no better way to start a Friday than with a run around the internet with Todd and Jo in the FDR. Just don't let them know I do it from the loo!
Kathryn Lynch-Smith @KikikatSmith
@Spaghetti_Jo
My inbox is full of rubbish newsletters that Im constantly deleting😬 My VIP inbox is for 1 thing only- THE DIGITAL ROUNDUP🤠I dont read a Newspaper or the news online, I just wait for Fridays, when this lands in my inbox- then I know 'The weekend has landed'🤗
Get the Friday Digital Roundup and see what everyone's talking about.
We may look like cowboys, but we'll never abuse your data! Find out what we'll do with it here, partner.
Does a Business Really Need a Website and Social Media? Not Always, No…
When you start a new business, especially since the start of the pandemic, you'll be told that you need to be online.
"Get a website", you'll hear.
"It's essential to be on social media!" they say.
Or you might get this recommendation: "You need to get some Google Ads running!"
But is it essential to be on all social media channels? Do you really even need a website?
When we started our business, yes, it was essential. But we're a marketing agency. It would look kinda crap if we didn't have a presence on social media, right?
But the thing is, not all businesses need to be prolific on social media, not all of them need a website, need any presence at all. It just depends on your business type and the way you generate leads.
Let me explain…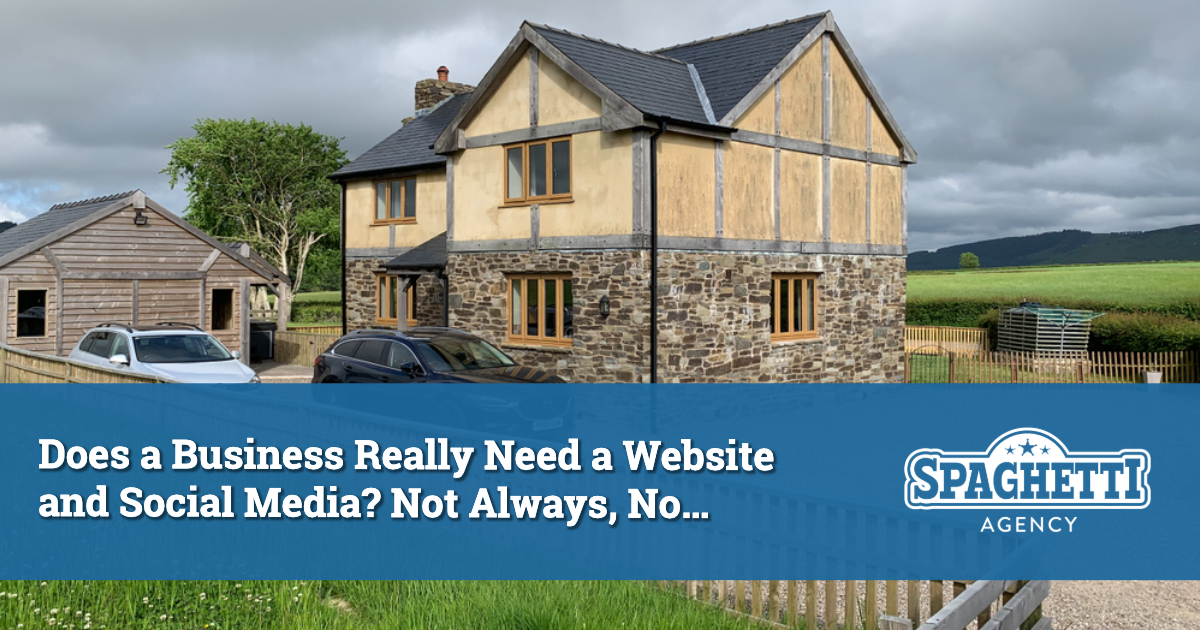 Does a Business Really Need a Website and Social Media? Not Always, No…
I Love a Shiny Thing. Don't We All?
The lure of cool online stuff for your business is constant. Software can be bought for anything, for example. (#ZapierNerd right here!) But just because you can, doesn't mean you should.
I met a business recently that doesn't need a website, a Facebook page, a Google listing, an Instagram account or even… a TikTok profile.
What? Yes, it's true!
Let me tell you about them…
They're a holiday letting business in Wales, and we recently stayed in one of their cottages. It was in a beautiful and remote area, and the internet was so poor we nearly switched off – ideal holiday vibes.
But I digress…
The Reason They Don't Need a Website, Google Listings, Facebook Profile and All That Jazz Is That They Already Get Bookings From a Holiday Portal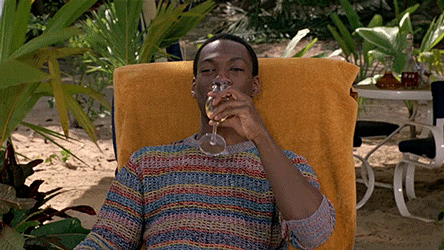 They just get all their business from that.
It costs them, though. There's a chunky referral fee taken out of every booking. But it's cheaper than the alternative.
You see, the alternative is this:
Build a website with eCommerce. Build it, host it, update it, market it.
Set up Facebook, Instagram, and maybe some Pinterest or TikTok to market it.
Post on social media 5-7 times a week and be active in groups locally and nationally.
Create a Google My Business listing and stay active on it.
Set-up some PPC to run ads to the website
Or put a strong SEO campaign in place.
And there's more…
Yeah. That's quite a lot of work.
Or they could just pay the holiday portal fee and wait for the bookings to come in.
Because the holiday portal has a website and social media, and they do all this:
SEO
PPC
Facebook Ads
Google updates
You see, you might need it all, but you might not be the best one to do it.
It's the same argument for Amazon, Etsy, or Not On The High Street.
If you don't have an audience, you have to pay to get one.
Sure, in the long run, a strong stream of traffic to your website is best, but until then (or maybe indefinitely) it's faster and more accurate to let the big portals handle it.
I Didn't Find Our Lovely Welsh Hideaway On a Holiday Portal Though…
Our personal travel agent who booked the holiday finds all her deals in their bespoke travel system and that is most likely fed by the agency website listings, so yes, they do work.
The point is this: you might not need a website, or social media, or any self-build social media presence at all.
You might be fine with just social media.
Maybe just LinkedIn is cool.
If you're listed as a partner on someone else's website, that could be all you need?
Or you could just go networking and drive the majority of your leads that way.
I've met and chatted to so many businesses over the years who come to us for marketing when they don't need it.
What they really need to do is make a better job of referral marketing, direct mail, networking or similar.
The thing to focus on is your business gets leads. Just because you don't get leads from social media, doesn't mean you will… or at least it doesn't mean you will without a tonne of effort that might be best swapped for some cash to a portal or partner to promote you.
The Welsh Hideaway Did Get Some Leads From Social Media Though…
I visited their business and (as I always do) I gave them a Google review.
But that didn't get them business. It did start a conversation with me though.
They read the review and were grateful. They asked me for my opinion and other less honest marketers might have sold them something.
But my advice was this:
"Stick with the portal as it's more cost-effective."
But I did share their other holiday let cabins on my social media. I wanted to show them the power of social media after you've spent 10 years building an audience… or just asking someone who has done (me) to shout about them.
I shared this post on my timeline:
And this post in our Spaghetti Besties Facebook Group.
And the result was this:
25 leads (so far)
2 confirmed sales (and more to come)
All without them creating a website or using their social media.
The owners don't have any digital advertising or channels set up for it, but I shared the images on my social media anyway.
They've had sales.
How? AUDIENCE; my audience.
As a business you need an audience but just setting up a website, social media, or listing isn't enough.
You need a following and engaged one at that!
(Without engagement you get very few eyeballs on your content!)
Of course… you don't always need your own one – you can borrow one! The holiday let have a massive angle for influencer marketing (as proven by a mini test through me).
There are A LOT of ways to use/grow an audience in your marketing:
Paid (Google Ads, Facebook Ads, Instagram Ads).
Organic – Google, social.
Shared – By someone with a good audience.
Borrowed – Paying an influencer to share your product or service.
You don't have to build it and wait for them to come.
You don't have to create social media and post all day long.
You don't have to set up a website or listing and pay to drive traffic to it.
You might need to if it's the right thing for you, but the point of this post is to find out what is right for you.
Maybe paying Amazon ain't that bad compared to the 12-month SEO campaign?
Maybe the holiday letting agency fees are OK when you consider the cost per click (not even lead) on Google Ads?
Maybe your time is better spent running the business than running your social media, especially if it's not your thing.
Don't Be Fooled Into Becoming a Digital Marketer!
Far too many do it and are resentful because they feel they 'should post'.
You might not need to.
What's right for my business might not be right for yours.
What your competition are doing might not be right for you or working for them.
How would you even know?!
Digital marketing takes time, effort, skill, and creativity.
If you're a farming family in Wales… maybe it's best to use other avenues and focus on animal care!
Of course, if you'd love a shiny website, social media, content and a strong digital marketing campaign (and it's right for you) we'd love to chat.
Just be prepared to be told that we won't do anything for you unless we think it'll be the right thing to get you results.
Spaghetti Agency: No Bull, Just Beef.
---
Tags associated with this article
Post a comment
We'd love to know what you think - please leave a comment!