Friday Digital Roundup
The Friday Digital Roundup is a witty take on the weird world of the internet. With fun stories from around the globe, it's the only email newsletter you'll actually read and enjoy!
We do love writing it, but clearly not as much as people like receiving it - just look at the response we got when a technical hitch meant it wasn't sent out on time!
Meschi Consultants @MeschiConsult
When it comes to the end of the week, there is no better way to start a Friday than with a run around the internet with Todd and Jo in the FDR. Just don't let them know I do it from the loo!
Kathryn Lynch-Smith @KikikatSmith
@Spaghetti_Jo
My inbox is full of rubbish newsletters that Im constantly deleting😬 My VIP inbox is for 1 thing only- THE DIGITAL ROUNDUP🤠I dont read a Newspaper or the news online, I just wait for Fridays, when this lands in my inbox- then I know 'The weekend has landed'🤗
Get the Friday Digital Roundup and see what everyone's talking about.
We may look like cowboys, but we'll never abuse your data! Find out what we'll do with it here, partner.
Marketing: It Isn't an Overnight Success, You Know…
On June 9th we launched the Spaghetti Social Media Summer Camp. The SSMSC was a popular concept. We had orders right away and overnight.
Clearly… this is an overnight success, right?
Well actually I know differently. I know that it wasn't immediate, and I know there's no such thing as an overnight success.
Here's why…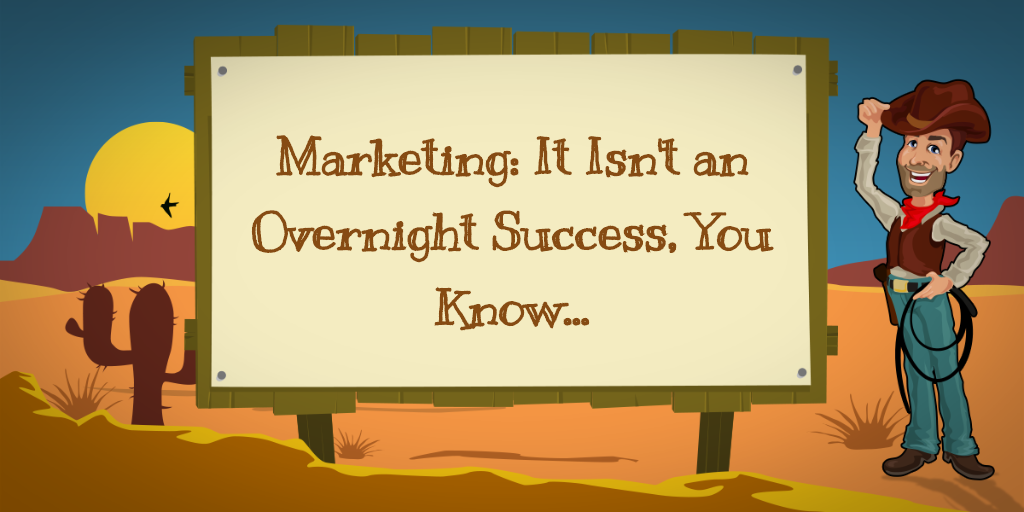 Marketing: It Isn't an Overnight Success, You Know…
Anything that's truly successful in life takes time. I know you and I both live in a world where shit happens in an instant, but stick with me.
Anything that's good in your life takes time.
Nature takes time
Cooking takes time
Relationships take time
Business takes time.
There's no instant solution or success.
You could download an app right now that would solve a problem but you'd need to learn it, implement it, and put it into action.
You could download your favourite track right now but you'd take a few days to learn the dance moves.
Life takes time and trust takes time and because business relies on a human making a decision – your marketing takes time too!
The thing is, we live in a world where stuff seems to appear overnight and be a success. But it isn't.
Even then YouTube stars or rock stars of old have had months or normally years of trials, heartache, and failures. You have to go through failures to truly be successful, right?
It's easy to think that what you see online is an overnight success because you didn't know about it yesterday
How many times have you seen something just 'pop-up' and it's already a success? You bet your bottom dollar there are failures and heartache behind it.
Success takes time, it takes effort, and if you're in business hoping for people to buy from you then it takes trust, too. Business needs trust. Trust is the oxygen of business.
So if you're in business then you're working in the trust market. You need people to trust you and then buy from you. You're working on building trust.  You're a trust builder and trust isn't an overnight thing.
We don't trust a YouTuber right away and he or she doesn't have fans right away.
We don't trust a rock star enough to pay them £150 a ticket to see them if we've not heard some music from them before.
(You can apply this to so many businesses so I won't waste time doing it here.)
You're in the business of building trust.
No trust, no business.
Everyone who ever bought from you trusted you.
Now can you see why there's no overnight success?
Look at the last thing you bought. You trusted that company or reviews from others. You trusted the product or the website you were on. You trusted their knowledge of the fact they were on the high street. Something helped you to trust them before you bought from them.
Let's look at a real life overnight success I had…
The Social Media Summer Camp was, on the face of it, and overnight success. I streamed on Facebook at 8pm on June 9th and people signed up right away.
It didn't even wait for the night to finish to be a success, really. But the next day, when all was said and done, it was a success – an overnight success.
It was an overnight success… unless you dig deeper.
Many of the people who bought were not new to me.
Many of the people who bought knew me and trusted me.
They'd seen content, videos, emails, tweets, updates and been on my list for a while before I went Live to launch the Summer Camp.
When I went Live on Facebook they already trusted me and to a point were already sold on what I had to offer. Now, you must have the right offering and it must be suited to them (and it was) but when you have trust you have the chance to create an 'overnight success'.
You need to build.
Build trust
Build a tribe
Build hype
Build a network.
Without these, when I launched, I would have failed.
Without all this I wouldn't have seen email after email of orders the moment I hit finish on that Live and ever since.

(Overnight email orders – overnight success?)
There is no overnight success. There is only overnight reward for months and years of effort.
Keep building and when you're ready you can ask.
But you have to give, give, give first before you ask.
(It's just human nature!)
Social media, marketing, content, talks, networking, email marketing, free trials – they all build trust.
If you're in business then you're in the business of building trust.
So go on – start building for that overnight success next year!
---
Tags associated with this article
Marketing
Post a comment
We'd love to know what you think - please leave a comment!