Friday Digital Roundup
The Friday Digital Roundup is a witty take on the weird world of the internet. With fun stories from around the globe, it's the only email newsletter you'll actually read and enjoy!
We do love writing it, but clearly not as much as people like receiving it - just look at the response we got when a technical hitch meant it wasn't sent out on time!
Meschi Consultants @MeschiConsult
When it comes to the end of the week, there is no better way to start a Friday than with a run around the internet with Todd and Jo in the FDR. Just don't let them know I do it from the loo!
Kathryn Lynch-Smith @KikikatSmith
@Spaghetti_Jo
My inbox is full of rubbish newsletters that Im constantly deleting😬 My VIP inbox is for 1 thing only- THE DIGITAL ROUNDUP🤠I dont read a Newspaper or the news online, I just wait for Fridays, when this lands in my inbox- then I know 'The weekend has landed'🤗
Get the Friday Digital Roundup and see what everyone's talking about.
We may look like cowboys, but we'll never abuse your data! Find out what we'll do with it here, partner.
Why your new website is like a newborn baby and six tips to help it grow
You know that a website is an important part of your marketing, right?! When you consider that 81% of people research a business online before doing business with them, it's not hard to see why.
You want people to Google the product or service that you offer, and then see your website at the top of the page. Search Engine Optimisation (SEO) is the only way this will happen. We write content for business websites that helps with their SEO.
Your website is like a newborn baby – fresh, untouched, unseen, unvisited, and ready for the world. Your new digital baby is fully functional and an amazing addition to your business, but your website needs to develop, it needs to grow and it needs people to visit it to help that growth.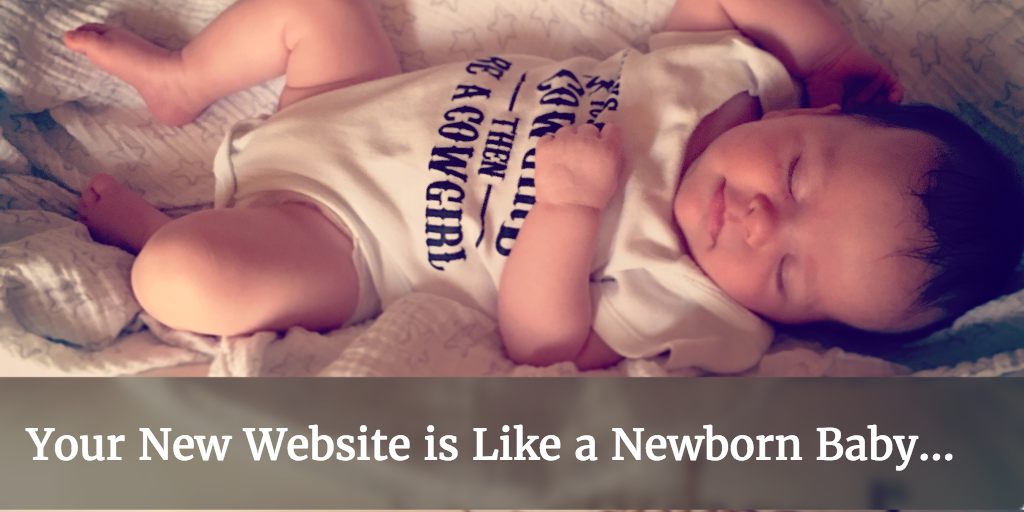 Why your new website is like a newborn baby and six tips to help it grow
Your baby needs nurturing and feeding 
Treat your new website like a living, breathing thing. Nurture the copy, grow the pages and develop the journey around it. People will only find your website if you do this.
Think about it. When a baby is born, is it left in the hospital on its own? No. It needs help and guidance, and most of all it needs input from you for it to grow and develop.
So what do we advise? Here are our top 6 things to help your new website grow: 
Blog: Blogging is a powerful way to add new content to your website. By having a blog, you can regularly update your website with useful and engaging content that people will love to read. Google say they want this type of content and it makes sense to give it to your readers too.
Add new, subject-specific pages: You should aim to have a page per subject. So, if you're a butcher, you need to have a page on sausages, a page on pork and a page on bacon. Having a page on pigs would be pointless as no one wanting to buy meat would search for pigs (they search for the end result). Having all the products on one page dilutes the message to Google. Your aim should be to have specific subjects on specific pages with quality content.
Size does matter: It's fair to say that quality over quantity is important, but you also need a certain amount of that quality copy. As a rule of thumb, each page should have at least 400 words to be considered relevant to Google. Talk about your subject or product's benefits.
Be social: Social media allows you to share your new baby. Social media gets visitors to your new website and social media will give you a platform to share your blog posts from. Get on board with Twitter, Facebook and especially Google+ for strong 'social signals' that Google will thank you for.
Monitor your growth: Be your website's midwife – measure the success of your feeding and development. There are some great tools out there to do this but Google Analytics is free and it's simple to use. Get it tracking your website and then analyse the visits, the customer flow, the social interaction and much more.
Don't stop… Websites need to be a living, breathing thing for people to show up and use them. Google wants to see evidence that you're still interested in your site or it won't send people there. Keep blogging, keep adding pages, keep sending people to the site via social media, and don't forget to test if this is all working. If it's not – change it!
I'll leave you with one last tip – stop Googling yourself!
When you search in Google you don't get the same results as everyone else. Google shows you want they think you want to see, so your search results will make it look like you're higher up than you are. Your own baby always looks prettier than other people's, doesn't it?
Also, because you visit your competitor's websites, they'll be higher up too! Ask us if you need help with this.
Keep feeding that baby If you want it to grow big and strong and contact us if you need help with visitors and baby food!
---
Tags associated with this article
Blog
Blogging
Blogs
Content
SEO
Post a comment
We'd love to know what you think - please leave a comment!