Friday Digital Roundup
The Friday Digital Roundup is a witty take on the weird world of the internet. With fun stories from around the globe, it's the only email newsletter you'll actually read and enjoy!
We do love writing it, but clearly not as much as people like receiving it - just look at the response we got when a technical hitch meant it wasn't sent out on time!
Meschi Consultants @MeschiConsult
When it comes to the end of the week, there is no better way to start a Friday than with a run around the internet with Todd and Jo in the FDR. Just don't let them know I do it from the loo!
Kathryn Lynch-Smith @KikikatSmith
@Spaghetti_Jo
My inbox is full of rubbish newsletters that Im constantly deleting😬 My VIP inbox is for 1 thing only- THE DIGITAL ROUNDUP🤠I dont read a Newspaper or the news online, I just wait for Fridays, when this lands in my inbox- then I know 'The weekend has landed'🤗
Get the Friday Digital Roundup and see what everyone's talking about.
We may look like cowboys, but we'll never abuse your data! Find out what we'll do with it here, partner.
Spaghetti Minis – Half Day Marketing Workshops – Get Four for the Price of Three!
Buy four Spaghetti Mini workshops for the price of three!
We'll send you a golden ticket that allows you to select the dates of any four upcoming Spaghetti Mini workshops on our diary. There's no limit and you can choose whichever combination you  see fit.
All out Spaghetti Mini workshops focus on one topic and are run from our training site in Leamington Spa. Spaghetti Minis are half day workshops lasting four hours.
That's right! Get four, focused and powerful marketing workshops with Spaghetti Agency for just £382.50!
Spaghetti Minis – Half Day Marketing Workshops – Get Four for the Price of Three!
Powerful Copywriting for Business 
Even with all the clever tricks and media-rich content you see online and on social media, words are still incredibly powerful and important to Google search – and getting people to say "yes!". We'll help you to create content that brings home the sales!
After this course you'll be able to write words that sell across your website, social media, emails, sales letters, and more.
We'll give you:
Our tried and tested ideas for email marketing, blogging, and websites.
Some of the tools and techniques used by famous copywriters that get results.
A simple and effective ideas generator to keep your writer's block at bay.
Quick website critiques to prevent you from making some common mistakes which could be stopping people from buying from you.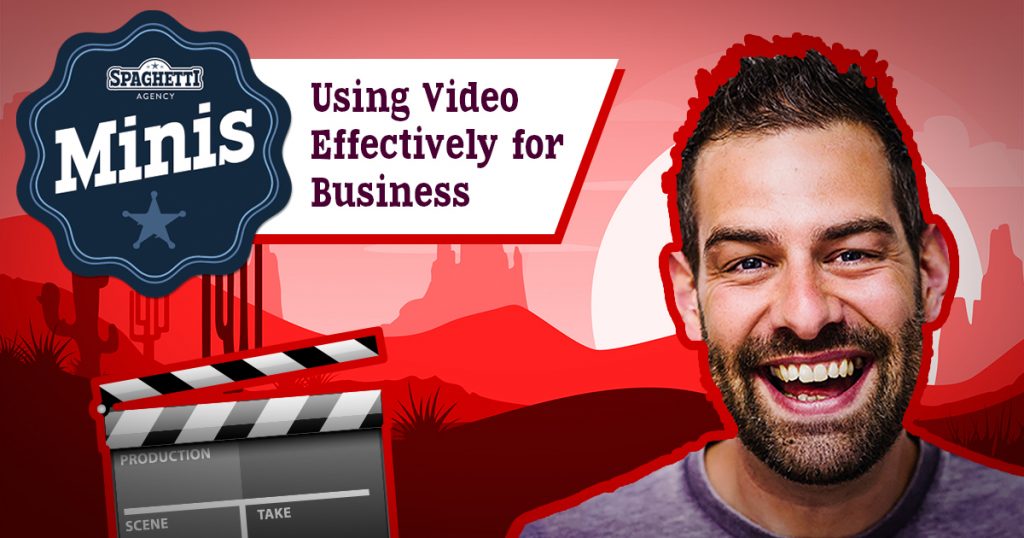 Using Video Effectively for Business
Learn what to share, how to share it, and more importantly WHY video is the most powerful tool you have access to right now.
Yes, we know it sounds scary, but bear with us – we can help you get over the emotional and technical challenges of getting yourself on film.
We'll give you:
A crib sheet for your video content.
A list of kit to make your videos professional for less than £50.
Content ideas and what to do with your video once you've recorded it.
Practice and expert tips on creating engaging video that sells yourself and your business.
And help and advice for the timid, scared, and those allergic to their own image!
At the end of the day you'll have more confidence, more ideas, and more motivation to get your video content created and out online.
The biggest opportunity is that most businesses simply aren't using video, giving you the perfect place to make a huge impact!
4 for 3 offer
There are five workshops to choose from and right now you can get any four for the price of three!
That's right! Get four, focused and powerful marketing workshops with Spaghetti Agency for just £382.50!
Helping Your Customers Find You on Google
There's no denying that we're all on the move and searching for things, people and places from our phone, on the go.
This gives small businesses a massive opportunity to stand out… but the majority aren't taking it.
You could be found by way more people, just by making a few changes.
And yes, this is for you if you're not interested in learning a whole heap of technical stuff but you'd like some help getting found online.
We'll show you:
How to dominate the front page of Google for zero budget.
What you need to have on your website to help you appear higher in the listings.
A simple way to use keyword research – the most important part of Google.
Plenty of quick ideas to push your business under the nose of your customers.
Right now, right this very second, there are people searching for you or what you do. We're going to help you jump up and wave at them!
Facebook Ads Course – Getting More Sales from Facebook Adverts
Facebook is the social media giant! It's incredible intelligent and a powerful marketing tool…
… if you pay!
Facebook have slowly turned down the free reach on business pages over time and it's predicted that you'll reach 0% of your fans for free this time next year. Facebook is a business after all, and the free gravy train is grinding to a halt.
But the good news is… Facebook ads are very cost-effective and highly effective (when you do them right!)
We'll help you with:
Re-targeting visitors to your website with Facebook's Pixel
Targeting your email subscribers via Facebook ads
Creating good copy and images for ads
Finding the right people on Facebook and marketing to them
Avoiding the 'Boost money pit' that many fall foul of
Understanding the rule of touch points
Creating and re-using audiences
Understanding A/B testing
And creating your first advert, audience, and marketing system with Facebook Ads
This course is ideal for small business owners or marketers who are new to Facebook ads or seeing little return from it and are possible annoyed with them!
Email Marketing For Winners – 26th July 2019
Even with social media, Google, and video marketing, one online marketing channel has stood the test of time. Email. Email marketing still works because we all still use email. But it fails if you approach it like everyone else.
What do most people do? Well, they write a newsletter.
About themselves.
But people don't really want to read about how Jeff from Accounts is doing his finance exams because it doesn't really affect them.
So what can do you?
We'll help you with:
Tried and tested subject lines
Opening line power tips
Content ideas for winning repeat readers
Template building advice
A simple tool to quickly create images and video content for email
Tips and hacks on growing your list
Best times to email your list
Adding sign-up forms to your website
How to use the data within your email marketing to generate sales
Building landing pages for social media
And how to on-board your subscribers automatically so they feel loved and valued.
This course is ideal for small business owners or marketers who are emailing already but need to get a structure and plan in place to keep in the minds of their customers.
Get four, focused and powerful marketing workshops with Spaghetti Agency for just £382.50!

>> Click here now to get this offer. <<
Getting sales from the internet has been over-complicated and made to sound technical and scary. It doesn't have to be that way.
We'll show you how you can simply and cost effectively gain more clients, right from the comfort of your shop or office.
No bull, just beef!
*** These workshops have been specifically designed for small business owners with little time or technical experience.***
If you have a thirst for more business and a frustration at the ever-changing online world, we can help you.
We'll explain it all simply, and give you the tools to take away to put it all into practice right away.
Here's what workshop attendees have said about working with us…

---
Tags associated with this article
Workshops
Post a comment
We'd love to know what you think - please leave a comment!