Friday Digital Roundup
The Friday Digital Roundup is a witty take on the weird world of the internet. With fun stories from around the globe, it's the only email newsletter you'll actually read and enjoy!
We do love writing it, but clearly not as much as people like receiving it - just look at the response we got when a technical hitch meant it wasn't sent out on time!
Meschi Consultants @MeschiConsult
When it comes to the end of the week, there is no better way to start a Friday than with a run around the internet with Todd and Jo in the FDR. Just don't let them know I do it from the loo!
Kathryn Lynch-Smith @KikikatSmith
@Spaghetti_Jo
My inbox is full of rubbish newsletters that Im constantly deleting😬 My VIP inbox is for 1 thing only- THE DIGITAL ROUNDUP🤠I dont read a Newspaper or the news online, I just wait for Fridays, when this lands in my inbox- then I know 'The weekend has landed'🤗
Get the Friday Digital Roundup and see what everyone's talking about.
We may look like cowboys, but we'll never abuse your data! Find out what we'll do with it here, partner.
I Got BNI Wrong… and That's Why I'm Joining Them
I never thought I'd say this. This month – November 2020 – I went to two BNI meetings, and I can't decide which one I like the most. But not because they were both awful and it's a toss-up as to which was worse. No, I really liked them both.
I'm looking to join BNI as part of our ongoing growth in the business and I'm shopping 'digitally' at BNI. By putting myself into local meetings as a visitor I'm experiencing BNI online with a view to joining the online chapter now, and then in person when we get back to some sort of proper life in 2021.
But a few years ago, this was far from what I was thinking…
Just 18 months ago I wouldn't have contemplated the thought of trying BNI and I certainly wouldn't have got up at 6am to join a Zoom with them.
But I got it wrong…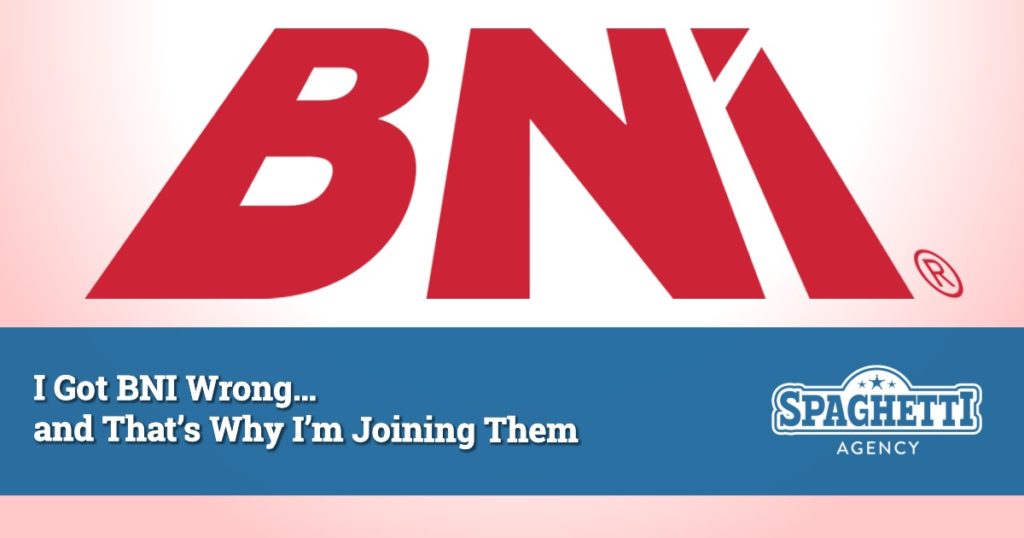 I Got BNI Wrong… and That's Why I'm Joining Them
BNI: Boring, Networking, Innit!?
I chose the other team. I went all in with another network and they were – by design – the opposite of BNI. They were positioned as fun and social and that certainly matched my personality. It still does.
You really should choose a network that suits your personality and – to go even further – you should really choose a group (or Chapter as they're known in BNI) within that networking organisation that suits you.
No two groups are the same. Oh, I must give a shout out to both Bethany at the Midlands Business Network and Chris at Coventry and Warwickshire Chamber of Commerce for hosting some fabulous events over the years!
I thought BNI was boring because I was told it was. But it's worse than that – I thought BNI was boring because I went to a BNI meeting years ago and it was boring.
Are all BNI meetings boring? No. I just happened to visit two chapters that weren't right for me and they backed up the messages my peers in my network at the time gave me. Or maybe I wasn't taking business seriously enough at the time.
BNI isn't boring; some chapters were… Or at least they weren't right for me at the time and my biased brain confirmed to me, "See? They're right, BNI is boring!".
It's OK to be wrong… it's just not OK to be rigid in your thinking
Look, we all change our mind over the years. I'm a big believer of growing and learning and taking on new challenges… now.
Years ago, I wasn't able to make changes and I shunned personal development. I'm now quick to correct people who say I seem to take change with ease and adapt well. I was a massive creature of habit and when I chose something, I stuck with it.
2020 certainly taught me that that way of living is over. You adapt or your business dies. You embrace the new normal or forever weep at photos from 2019 and before.
I was wrong about BNI (and other networks) and I'm big enough and ugly enough to say that, right here, on my blog.
BNI is fun… in the right chapters
It's early days for me and this is far from a BNI review. It's more like a customer experience diary entry. I'm not in yet. Hey, they might not want me after this.
But it is a realisation that you can be told something for long enough and that becomes true… in your head.
You can be told BNI is boring, Twitter is crap now, SEO doesn't work, and Apple is better than Microsoft, and you'll believe it.
But you really should question things a little more. You really should look up from the book of your beliefs and entertain the other ideas passing by you.
Whose beliefs are they anyway? Yours? Or someone else's ideology drummed into you – like when your parents told you not to talk to strangers? As it turns out that's a terrible internal rule for networking by the way – thanks Mum and Dad!
Question things. Don't use Facebook Ads because I do. Don't go networking if you hate it. Don't spend £5K on a website because a company similar to you did. Question it and ask yourself, "Does it suit me, and will I be happy doing it?"
I'm no salesperson but…
We're working with Tom Mallens from Sandler Training at the moment. I recommend checking him out. We're working on the Sandler Training method and one thing really struck me from it – and I'm paraphrasing here – but essentially, it's:
"It's OK if you or the prospect doesn't want to continue at any point."
If you don't want to work with someone, don't. And if your prospect doesn't want to work with you, don't try and force it. It'll rarely end well anyway.
It's better to commit to something you're going to add value to and get value from. It's better to have great clients and great networking meetings that fill your heart with joy, than not.
Why would you do anything else when you have a choice? And you do have a choice.
Choose the network that suits you, not the one you've been told suits you.
Me, Myself, and BNI?
Will I go all in? Sure. Will I only do BNI? No. I've learnt that lesson.
You need to spread your net wide, but in the right waters. I will still do our own online networking and I'll still go to those fab Chamber and FSB events. It's OK to flirt with other networks.
It's ok to support red and blue!
I'll be joining soon and by the time you read this I may have decided, so maybe I'll pop a link to my chapter below. But the simple takeaway from this blog from one serial networker to another is this:
"People buy people." 
This isn't news.
It's the first lesson I learnt on Twitter back in 2010 and it's the business mantra that I carry with me now. Find people you want to be around and stick with them. Find a chapter, a Facebook Group, or a marketing agency in Warwickshire that you feel will get you results.
Seriously… I went to BNI (twice) and I liked it!
We love online networking on Remo – check it out here.
---
Tags associated with this article
Post a comment
We'd love to know what you think - please leave a comment!