Friday Digital Roundup
The Friday Digital Roundup is a witty take on the weird world of the internet. With fun stories from around the globe, it's the only email newsletter you'll actually read and enjoy!
We do love writing it, but clearly not as much as people like receiving it - just look at the response we got when a technical hitch meant it wasn't sent out on time!
Meschi Consultants @MeschiConsult
When it comes to the end of the week, there is no better way to start a Friday than with a run around the internet with Todd and Jo in the FDR. Just don't let them know I do it from the loo!
Kathryn Lynch-Smith @KikikatSmith
@Spaghetti_Jo
My inbox is full of rubbish newsletters that Im constantly deleting😬 My VIP inbox is for 1 thing only- THE DIGITAL ROUNDUP🤠I dont read a Newspaper or the news online, I just wait for Fridays, when this lands in my inbox- then I know 'The weekend has landed'🤗
Get the Friday Digital Roundup and see what everyone's talking about.
We may look like cowboys, but we'll never abuse your data! Find out what we'll do with it here, partner.
Print ISN'T Dead, Says Social Media Marketer and Digital Agency Owner…
Print marketing is dead. No one read magazines anymore. The Yellow Pages is a relic and if you're in print, your business will fail at the feet of digital.
Really? Is print really dead? Do we not need printing in marketing anymore? Is it really a choice of one or the other? Can we only have print or digital?
I don't think so.
A conversation I had with a printing company owner in our workshop recently made me look at print in an entirely different way…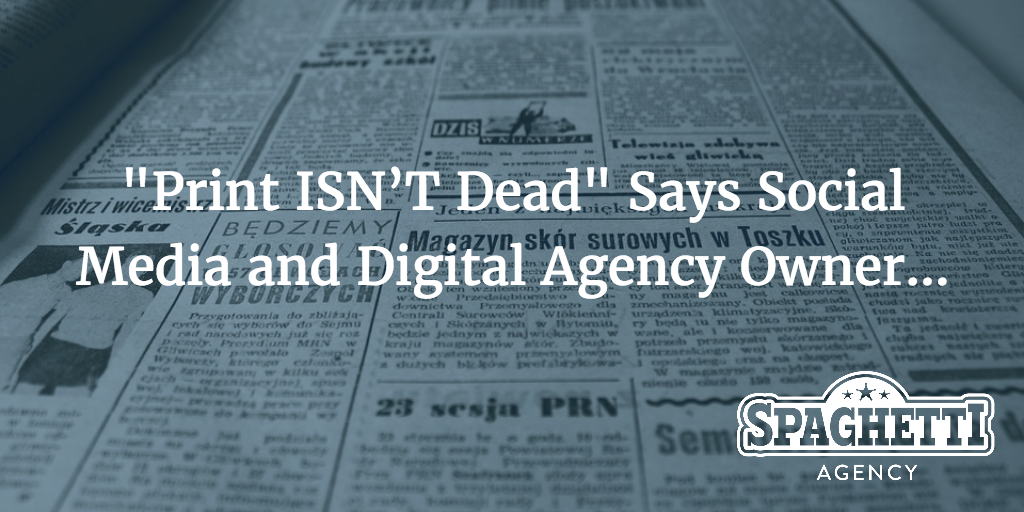 Print ISN'T Dead, Says Social Media Marketer and Digital Agency Owner…
Print is different, and can cut through the noise
First of all: have you been online recently? Wow, there's so much content out there. Facebook now limits us to seeing just a few hundred stories a day, as on average we'd be seeing around 1,500 stories if not. Total overwhelm.
Online is busy, just like your door mat used to be. But many have moved completely to digital and started Google Ads and Facebook campaigns. So is it time to make some noise elsewhere? Those leaflets and branded pens might just be coming back! (Not that branded merchandise ever really went away. Jo loves the stuff!)
When was the last time you sent a postcard?
Remember on holiday you had to send the postcards on the first day or you would beat the thing back to your country? Now of course you simply post your photos on social media and never send anything.
But think about your marketing. Think about standing out. Think about sending something totally different into your client's space. Long after that tweet or YouTube video has been forgotten, your postcard could sit on the office cabinet or window sill. I still have one that Mailchimp sent me two years ago.
(Touchnote is a great marketing tool we like to use, and so does our coach Claire. Think about it…)
Did you ever think about making online work with print?
I don't think it's a choice; I think the best campaigns involve a partnership of the two.
But just like with all your content and marketing it needs to be joined-up. Your print needs to complement your digital and your social media needs to follow and mirror your postcards, leaflets, letters and promotional gifts.
Printing a leaflet with a free offer you have to visit a web page to get gives you a chance to capture them on a Facebook pixel can drive ads back to them.
Sending some direct mail and then following up on LinkedIn gets you in two places at the same time.
Posting some postcards and then making sure you have lots of content on social media in the places your recipients hang out joins it all together – and makes sure you're working towards the elusive right number of touch points.
Keep it all joined up and consistent.
It's frequent, consistent messages that work.
Your message needs to be the same though, and your branding must follow through on all of it. It's the recognition that makes it powerful. Don't push one message on one medium and another elsewhere. It needs to be obvious and purposeful to work its magic.
The thing about print is that it's real and you can touch it. The great thing about social and digital is that it's intelligent and trackable. 
Using the two together might just be the best way for print to make its impact on the marketing world once again.
Have you thought about combining the two? When was the last time you sent a letter? Was it handwritten?
I'd love to know what you think in the comments below…
---
Tags associated with this article
Content Marketing
Marketing
print
print marketing
Post a comment
We'd love to know what you think - please leave a comment!