Friday Digital Roundup
The Friday Digital Roundup is a witty take on the weird world of the internet. With fun stories from around the globe, it's the only email newsletter you'll actually read and enjoy!
We do love writing it, but clearly not as much as people like receiving it - just look at the response we got when a technical hitch meant it wasn't sent out on time!
Meschi Consultants @MeschiConsult
When it comes to the end of the week, there is no better way to start a Friday than with a run around the internet with Todd and Jo in the FDR. Just don't let them know I do it from the loo!
Kathryn Lynch-Smith @KikikatSmith
@Spaghetti_Jo
My inbox is full of rubbish newsletters that Im constantly deleting😬 My VIP inbox is for 1 thing only- THE DIGITAL ROUNDUP🤠I dont read a Newspaper or the news online, I just wait for Fridays, when this lands in my inbox- then I know 'The weekend has landed'🤗
Get the Friday Digital Roundup and see what everyone's talking about.
We may look like cowboys, but we'll never abuse your data! Find out what we'll do with it here, partner.
Stop Over-thinking Your Marketing and Start Over-working it!
Social media, blogging, email marketing, PR, networking, podcast interviews, vlogs, video interviews, talks, sales letters.
Marketing: It has many different forms but for lots of businesses it has the exact same form. That form is nothing. It's invisible as it's not happening! And I think I know why:
You're over-thinking it.
I have a brand I love and I'm very proud of, and I try to make my content as best as I can… but I don't over-think it too much.
When you over-think, you end up not creating it, not sharing it, and you miss out on someone reading it and consuming it. You're worried about it being perfect so you don't want to share it with the world.
I haven't over-thought this. I'm merely typing away after one thought. For five seconds I thought about sharing this and then: "Ok," I thought "That'll do, I'll write about that".
It's better than sitting here scratching my head trying to think about something amazing I could write only to find that actually, I'm not feeling too amazing today – and then writing nothing!
Content marketing doesn't have to be 100% perfect every time. Just do best you can do. And I know, I know that's opening the floodgates to streams of crap on the internet. It that doesn't mean you can just put drivel on the internet. It's about finding a balance and sharing content that makes people think, act, and pay attention.
Stop Over-thinking Your Marketing and Start Over-working it!
What if you spent all your time worrying…
… worrying about creating the most amazing piece of content and then not actually creating it.
Or what if you did create that amazing piece of content on your blog or vlog or shared that great thought on your social media… instead of sharing 5 or 10 pieces?
Case in point: I have 1,078 videos on my iPhone. Most of these have landed on social media. I can't remember how many of them have made a difference.
But last week I shared a Facebook Live video from a field. I was so keen to share what I found I went against my own advice and did it in portrait by mistake! Yes, I made a vertical video. The shame.
It was far from perfect. In fact it was unscripted, vertical, and I looked like shit as I hadn't even had a wash!
But the story I was sharing was powerful and I put the right title on the video before I shared it.
I posted it at the right time and that time was NOW (or then). The news was just breaking about our dog who had been poisoned whilst walking on a public common. I went back to the scene and found evidence of poison and shared it. That video has had almost 30,000 views and launched several investigations from the RSPCA and the Council to name but a few.
That piece of 'off-the-cuff content' worked and I thought about it for about 5 seconds before I did it.
What gave me the guts to do it, the idea to do it, and the knowledge of what to put into it and how to do it was the 1,078 videos on my iPhone… most of which ended up on Instagram.
Because I don't over-think it and I get on with it I get better at it and I get braver with it. I also get used to most of it not going viral… because most of yours won't either. Sorry.
Stop thinking; start acting.
The fact is: my content does so much better when I create it than it does sitting in my head. My content is more likely to go viral if I create it than if I talk to 10 dog owners and whinge about the poison to them.
I'm more likely to affect people and get noticed if I share more content than if I wait for the one thing that will never EVER come, and that thing is perfection.
Perfection: welcome to your enemy.
Perfection is holding you back.
Perfection is ruining your chance of making your content get heard, seen or read.
Perfection is the enemy of your marketing.
Most of the content I see is shit. And I'm not for one minute suggest that you become shit. But at some point in history Usain Bolt couldn't walk, Andy Murray couldn't hold a racquet, let alone serve a winning ace, and Lewis Hamilton had to take a driving test.
You have to get good, you aren't brilliant naturally. You also have to accept 'good', too. Good enough is better than perfect!
Good enough is better than not done. Good content is better than an amazing 'idea' about content that stays scribbled on your pad, never to see the light of day.
Good enough. You're good enough.
Content marketing isn't all about BIG content
I read a great article from Gary Vaynerchuck this week about documenting, not creating. It's so true. We don't need to create huge pieces of content; we need to document and tell our story with content. Don't worry about creating a 5,000 word blog or whitepaper. By the time you've got it signed off, I've updated my…
…actually let's just put this into perspective, shall we?
To create one piece of large content take a long time. Let's say for argument's sake say it takes you a week to brainstorm it, create it, proofread it, get approval and then share it. And that's being very fair on a large piece of content because I've seen it take months.
In that time (in a week) I've possibly done this for my brand:
Updated Instagram 5 times
Updated Facebook 15-20 times
Shared content in Facebook groups 3-5 times
Updated Twitter with content and 'stuff' about 70-80 times
Broadcasted on Facebook Live
Sent two marketing emails for Spaghetti and one for my networking meeting
Updated LinkedIn with some content or a status update a couple of times
Created a blog and shared that on email and social media
… and possibly a whole other bunch of stuff too. And that's just for Spaghetti – not even our clients.
Sure, your piece of content will be slicker, more researched and more 'professional' than mine. It'll probably look sexier when it's designed, too. But I have more voice, more noise and chances to capture attention for my brand. I have the 'everywhere' effect.
"Your brand is everywhere, Todd". I hear this a lot. Even if that person hasn't consumed any of my content I'm happy. I still made them notice me.
Again, I'm not suggesting that you share the inside of your fridge on Facebook Live or post selfie after selfie on Instagram. I'm suggesting you share and document what you're doing and how you, your brand or business add to the world.
Post it and then move on to the next post
Just keep on sharing content and keep on generating a story for you, your brand or business. Keep picking up your phone and making people think and act. You have the power to do this… you're just held back by our dear friend perfection.
Here are some stupid things that you need to get over right now:
"I don't like my face in pictures" – it's your personal brand, get over it!
"I don't like my voice on video" – it's fine, we listen to it when you talk.
"I hate that no one reads my content" – it's normal. Create more until you get heard.
"I worry that someone might read my post and disagree" – they will, if you're lucky enough that they see it. Not everyone will agree with you.
"I'm not a very good writer" – practice makes perfect!
"I have nothing to share" – bullshit! You're in business, you're human, you have something to share that matters.
Post your content and then move onto the next piece. Heck I'll be sharing content after I've written this piece of content. It may well be about this. Or it may be that I'm in my office and it's 18:21 and I'm here because I took the afternoon off to watch my son's nativity. Whatever it is, I'll be documenting it if its relevant to my business or brand.
Make sure you're remembered by being unforgettable
So many people work with me because they can't forget me. I'm not sharing the best content I could, but I'm sharing as much of it as I can. I'm not pumping out one amazing piece of content a week, I'm sharing over 100 'touch points' that keep me in their mind for when they're ready to buy from me.
Just this week I've had someone start a conversation with "Hi Todd. Loving your videos by the way. Can I talk you about…" You see? The videos are noise. It's all just documenting and it's simple, throw away content, but it starts the conversation. The hard work is converting that conversation… but that's a whole other blog!
Be the person they think of by demonstrating that you're good at what you do but also by demonstrating what you do by sharing when you do what you do!
If you only share once a day on Twitter you're leaving a lot to chance for someone to see your tweet. If you're not emailing consistently you're missing a trick. If you don't go networking and then use social media to keep your prospects warm, you're making the know, like, trust thing take ages to catch fire.
Create content as you go, wherever you go, and for the simple reason that you're adding to your story and giving back anything you find of interest.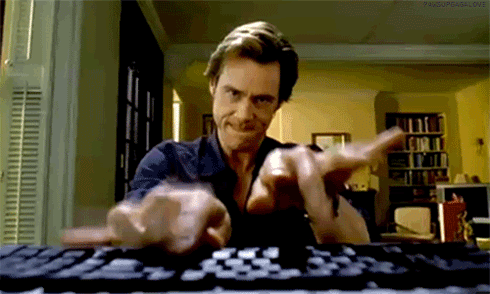 Content marketing doesn't have to be one overthought piece of content…
Content marketing should be a stream of touch points that give value, offer some education, some fun, and maybe just a little piece of content to consume on a walk to work.
That's the world we're in.
Be honest with yourself. How often are you reading long pieces of content? Or do you skim like most people?
And now ask yourself how often you're reading simple soundbites on social media and in your email?
I don't want to compete with everyone for your time when you read 'big content'. I'd rather be there more often, during your day, on your walk and, dare I say, it on the loo! It keeps my brand in the minds of the people I want to talk about me, buy from me and share my content.
One thing I'll leave you with this though…
Don't create crap content. Sure, at first it might be crap but Lewis Hamilton couldn't reverse park once-upon-a-time. Get on with it, but aim to get better and share better content. Find your niche, your style, and craft it with your audience. Listen to what they like and work out what gets ignored, skimmed or unsubscribed from. Get on with content and start the journey towards great content. Keep learning and reading books and blogs by the best marketers and writers.
Great content doesn't happen overnight but it doesn't have to take all night either. Create it and share it and keep on doing it.
You'll be amazed how much easier it'll get and how much more you'll get.
---
Tags associated with this article
Blogging
Brand
Business
Content Marketing
Marketing
networking
Social Media
Storytelling
Post a comment
We'd love to know what you think - please leave a comment!