Friday Digital Roundup
The Friday Digital Roundup is a witty take on the weird world of the internet. With fun stories from around the globe, it's the only email newsletter you'll actually read and enjoy!
We do love writing it, but clearly not as much as people like receiving it - just look at the response we got when a technical hitch meant it wasn't sent out on time!
Meschi Consultants @MeschiConsult
When it comes to the end of the week, there is no better way to start a Friday than with a run around the internet with Todd and Jo in the FDR. Just don't let them know I do it from the loo!
Kathryn Lynch-Smith @KikikatSmith
@Spaghetti_Jo
My inbox is full of rubbish newsletters that Im constantly deleting😬 My VIP inbox is for 1 thing only- THE DIGITAL ROUNDUP🤠I dont read a Newspaper or the news online, I just wait for Fridays, when this lands in my inbox- then I know 'The weekend has landed'🤗
Get the Friday Digital Roundup and see what everyone's talking about.
We may look like cowboys, but we'll never abuse your data! Find out what we'll do with it here, partner.
Stop Using Automated Tools And Systems For Social Media And Start Using Your Head!
Tools.
We all need them.
Jobs get done faster with the right ones, and used properly they do make life easier.
But there's a problem with online tools, and it's making social media poor.
It's making people who are poor at social media think they're good at it.
Tools are ruining social media.
Don't get me wrong – I use social media tools but I don't rely on using just tools… and I don't let them ruin my social media.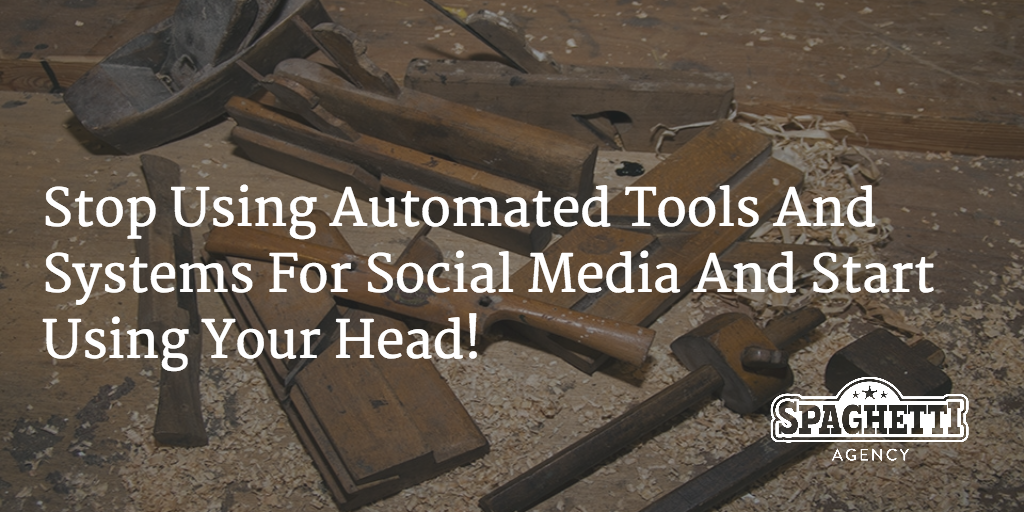 Stop Using Automated Tools And Systems For Social Media And Start Using Your Head!
Social media has been around for a very long time now. We're getting used to how things have changed.
Facebook is over 10 years old and YouTube is the go-to place for almost any instructional video you could think of, as well as cat videos, of course.
Over that time social media has evolved in a big way.
It's gone from just messing about and sharing the odd photo to changing the way we vote, date, buy and live our lives.
Social media has always been about one thing though, and that's communication.
Communication is a human need. We need connections and common ground.
Without communication we're lost, we're out of sorts, we're isolated.
Communication is now so important that more people own a mobile phone than a toothbrush!
Social media is a faster, richer way to communicate and it's what drives the fascination for it.
But That's Where It All Falls Down For Social Media With Businesses
I've been saying for over five years now that a lot of businesses still just don't 'get' social media.
They think they can sell.
They think they can market.
They think people give a damn about them.
People don't care, though!
It's every man, woman and child for themselves, online.
Only when you offer something of value and interest that helps your audience, does anyone care.
***But I digress.
Tools… Tools, Tools, Tools
There are tools for everything on social media.
From scheduling to measuring, to creating, to posting, to replying and responding; there's a tool or app for that!
That's great, it really is, but I wonder what happens when those tools meet.
I mean, what happens when your auto-tweet meets an autobot?
What happens when your auto-DM meets an auto-responder?
What happens when your automatically posted blog meets a like-bot or a spammer scraping for content to comment on?
Do the robots connect and meet up and network? Do they form a strong relationship that helps your business, or are you unaware they ever clicked?
I'm afraid that a lot of what you see now is not social media but businesses gaming the system to get links, SEO, traffic, interest, downloads and all the other wonderment promised by shovel-sellers online.
I read a great quote this week and now seems like a good time to share it with you:
"Nothing in the world is worth having or worth doing unless it means effort, pain, difficulty… I have never in my life envied a human being who led an easy life.
 
I have envied a great many people who led difficult lives and led them well."
― Theodore Roosevelt
Nothing is as easy as plugging in a tool and watching it work.
There's no pipe dream.
There's no way you can own a Lambo without actually getting your hands dirty and work your sorry, tired ass off!
Even Tai Lopez who swans around on the internet with his amazing houses and awesome motors says that he slept on a sofa for months when he was down to his last few dollars.
Yes, he's now trying to sell you a free eBook with all his secrets in exchange for your email address – but at least he's honest enough to say that life sucked before he made it.
Social Media Is Hard Work
Building an audience is tough. This great post from Buffer explains that.
Tools will help you, but they should never replace you – and I see way too many robotic businesses online that simply aren't there and don't respond.
Heck, this week a friend of mine tweeted a restaurant with a cheeky "Your burger was OK but I prefer your competitor's one" and they not only failed to reply… but they RETWEETED it!
WTF!?
The Whole World's Gone Mad; The World's Gone Robotic
The social aspect went out the window and someone let the snake oil sellers and the cold selling door-to-door salesman in.
Here's the deal:
Social media needs you. It needs humans and conversation… not your tools or your automation.
The problem that comes with tools is that you can just 'plug-in and leave'.
Pay for a tool, plug it in, and never go back.
"Don't worry about responding or watching or listening as that takes too much time.
Just buy this tool and plug it in and share loads of stuff and push traffic to your website and it'll tick that box!"
Speak to people and build connections? What the feck would you want to do something stupid like that for?
It takes too long to build relationships…
… and that's another problem.
There's No Tool To Speed Up The Time It Takes For Someone To Trust You.
There's no alert that lets you know when someone is going to be ready to buy from you… you just gotta leap in and invest what time you have to talk and listen.
Use the tools. Share your content. Post your eBooks and your blog. I do.
But don't leave without speaking to us.
Don't automatically thank people for following or ram your content down their throat right away.
Say "Hi" to the right people, the interesting ones, the folk you can help or connect with.
Social media went all robotic and it's killing it. Use your tools wisely.
Come back humans… we miss you!
---
Tags associated with this article
Social Media
Post a comment
We'd love to know what you think - please leave a comment!