Friday Digital Roundup
The Friday Digital Roundup is a witty take on the weird world of the internet. With fun stories from around the globe, it's the only email newsletter you'll actually read and enjoy!
We do love writing it, but clearly not as much as people like receiving it - just look at the response we got when a technical hitch meant it wasn't sent out on time!
Meschi Consultants @MeschiConsult
When it comes to the end of the week, there is no better way to start a Friday than with a run around the internet with Todd and Jo in the FDR. Just don't let them know I do it from the loo!
Kathryn Lynch-Smith @KikikatSmith
@Spaghetti_Jo
My inbox is full of rubbish newsletters that Im constantly deleting😬 My VIP inbox is for 1 thing only- THE DIGITAL ROUNDUP🤠I dont read a Newspaper or the news online, I just wait for Fridays, when this lands in my inbox- then I know 'The weekend has landed'🤗
Get the Friday Digital Roundup and see what everyone's talking about.
We may look like cowboys, but we'll never abuse your data! Find out what we'll do with it here, partner.
Is Social Media Dying? Or Is This Just a Natural Change?
Social media is defined as online communication with user-generated content. The first recognised type of social media started way back in 1997.
Six Degrees was one of the first social media channels to be launched. It allowed a profile and connections.
Then in 1999 blogging sites started to gain popularity. Remember MySpace? That was launched in 2003 and, incredibly, in 2006 it surpassed Google as the top visited website in the world!
Then along came Facebook in 2004, and today it's the third most visited site behind Google and YouTube.
Social media itself, in its current form, has been around for 20 years, and in that time the channels have clearly been through some big changes. With new companies being launched and channels gaining and losing popularity with users, the landscape is constantly changing.
But social media has been heavily criticised for having a negative impact on users. Lack of trust, worries about privacy and data security, huge issues with 'fake news' and marketers competing for clicks are all cited as frustrating issues that are encouraging people to log out and switch off.
Companies like Wetherspoons have checked out of social media and beauty brand Lush have closed down their UK accounts.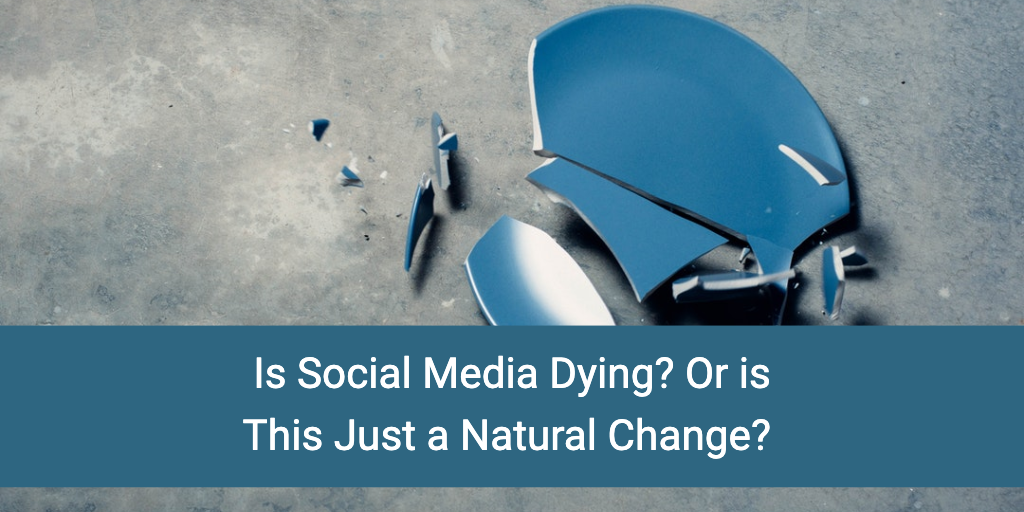 Is Social Media Dying? Or Is This Just a Natural Change?
So, is social media dying a slow and painful death?
We don't think so.
Yes, Big boy Facebook has plateaued somewhat, Twitter never really flew when it floated on the markets, and Google+ is no more. But LinkedIn, Instagram, and TikTok are getting some serious activity and YouTube remains the 2nd largest search engine, thanks to Google's $1.65 billion buyout in 2016.
Social media has changed. There's no doubt about that. But we think it's an evolution.
It's moved from just connecting people to people to being a core part of people's lives and influencing global decisions – including elections!
Social media has given the people some power, but it's also caused harm and heartache and humans are not designed or equipped to deal with this.
With constant pressure from governments and other groups for companies like Facebook to be more transparent and share what they do, capture, and then do with the data, social media is set to change.
If you're running a small business then carrying out marketing on social media has massively changed
It's very apparent that the 'reach' and 'engagement' is not what it used to be.
Facebook announced that brands now get far less of the attention pie and sites like Twitter are bloated and struggling to cope with the volume of content.
So as I blogged recently, it's not what you put on social media; it's the audience you have and who you're sharing it with that counts. Algorithms determine how well you do, and they also determine what you see, post, and pretty much what you believe.
By only following like-minded people we end up living in an echo chamber where everyone agrees with what we think. So long as you're aware of this you can continue to question what you see and do your own research.
For me, social media is as important – if not more so – than when I started dabbling in it back in 2010.
But it's different. Far different from what it was.
Social media is a constantly evolving part of life and what you get from it and benefit from will change, and always has done. If you choose to have a break from it for an evening or a weekend, that's fine. The world will keep on turning.
Social media won't die though. It's just people talking, and people want to talk. This new way of being part of a community is just another phase, stage, and way of being. It's temporary and transient.
So social media isn't not dying; it's evolving. If your business doesn't evolve with it though, it could be the thing that dies.
What do you think?
Will social media ever die or will we always have a human need to interact with others?
I'd love to know your thoughts in the comments below…
---
Tags associated with this article
Social Media
Post a comment
We'd love to know what you think - please leave a comment!