Friday Digital Roundup
The Friday Digital Roundup is a witty take on the weird world of the internet. With fun stories from around the globe, it's the only email newsletter you'll actually read and enjoy!
We do love writing it, but clearly not as much as people like receiving it - just look at the response we got when a technical hitch meant it wasn't sent out on time!
Meschi Consultants @MeschiConsult
When it comes to the end of the week, there is no better way to start a Friday than with a run around the internet with Todd and Jo in the FDR. Just don't let them know I do it from the loo!
Kathryn Lynch-Smith @KikikatSmith
@Spaghetti_Jo
My inbox is full of rubbish newsletters that Im constantly deleting😬 My VIP inbox is for 1 thing only- THE DIGITAL ROUNDUP🤠I dont read a Newspaper or the news online, I just wait for Fridays, when this lands in my inbox- then I know 'The weekend has landed'🤗
Get the Friday Digital Roundup and see what everyone's talking about.
We may look like cowboys, but we'll never abuse your data! Find out what we'll do with it here, partner.
How to Add Captions to LinkedIn Videos Without Having to Use Complicated Software
You probably know by now that most social media videos are watched with no sound on.
This is because we're all scrolling as we're walking, working in offices, in meetings, and when we probably shouldn't be on our phones!
We're looking through the internet without any sound – it's a silent movie!
I carry headphones with me all the time and I'm ready to go. But not everyone does that, so your videos need captions.
There are many different ways to get captions on videos.
There are some incredibly talented people out there putting some really great captions across the top and the bottom, branded up and everything else.
But there's actually a very simple way to do it now on LinkedIn, which is great news if you're into video!
How to Add Captions to LinkedIn Videos Without Having to Use Complicated Software
Why add captions to my LinkedIn video?
LinkedIn LOVES video. Not just the systems and algorithms – the people who are on it, consuming content. People like watching video because we've been brought up with TV and video and it's easy for us to understand. It's more visual, more engaging, and more likely to get someone to stop scrolling.
Video is the best way to build a relationship with social media, too.
You'll get far more interactions, far more views, and more engagement if you use video.
That means you'll get more impact, too.
And if you have captions so the video still works with the sound off – you're onto a winner!
How to add captions to LinkedIn with Rev.com
Adding captions is dead simple to do and really cost-effective.
There's a site you've probably heard of before called Rev.com. Rev.com uses a free piece of software that you can probably use elsewhere with YouTube, so if you're clever, you can go and do it for free.
But essentially, with Rev.com, you can create a video like the one below with captions that play right away, without any extra clicks for your viewers.
Here's how it works:
Upload the video to Rev.com
Order the captions. Give it an hour, and then they'll then email you the captions. You might need to check back into the website as my emails go to spam.
Then go to LinkedIn, and click on the video icon to upload a video.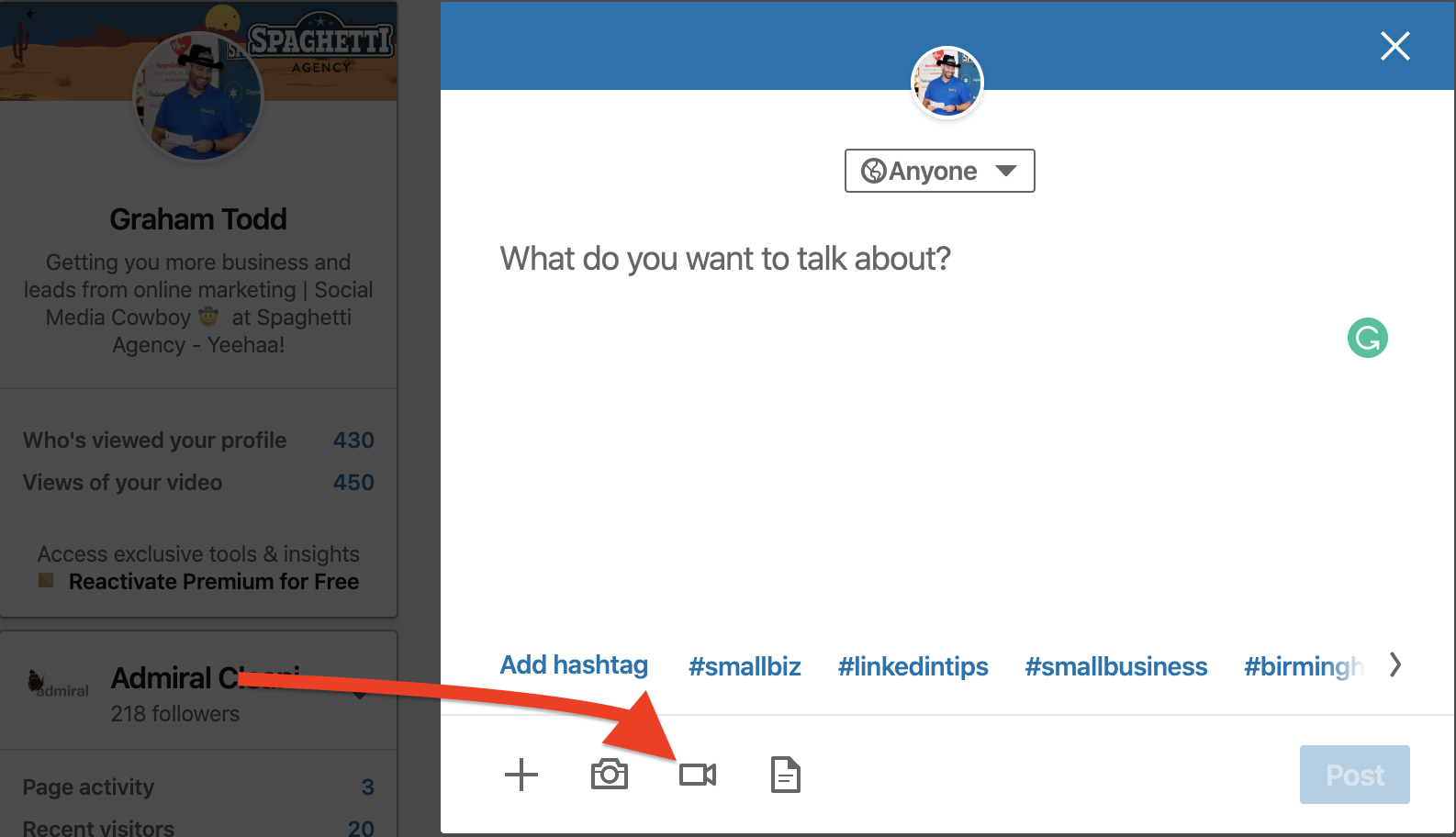 Upload your video (the same video that you sent to Rev.com) and then, as you go to upload it, there's a little edit pencil in the top right-hand corner. Click it.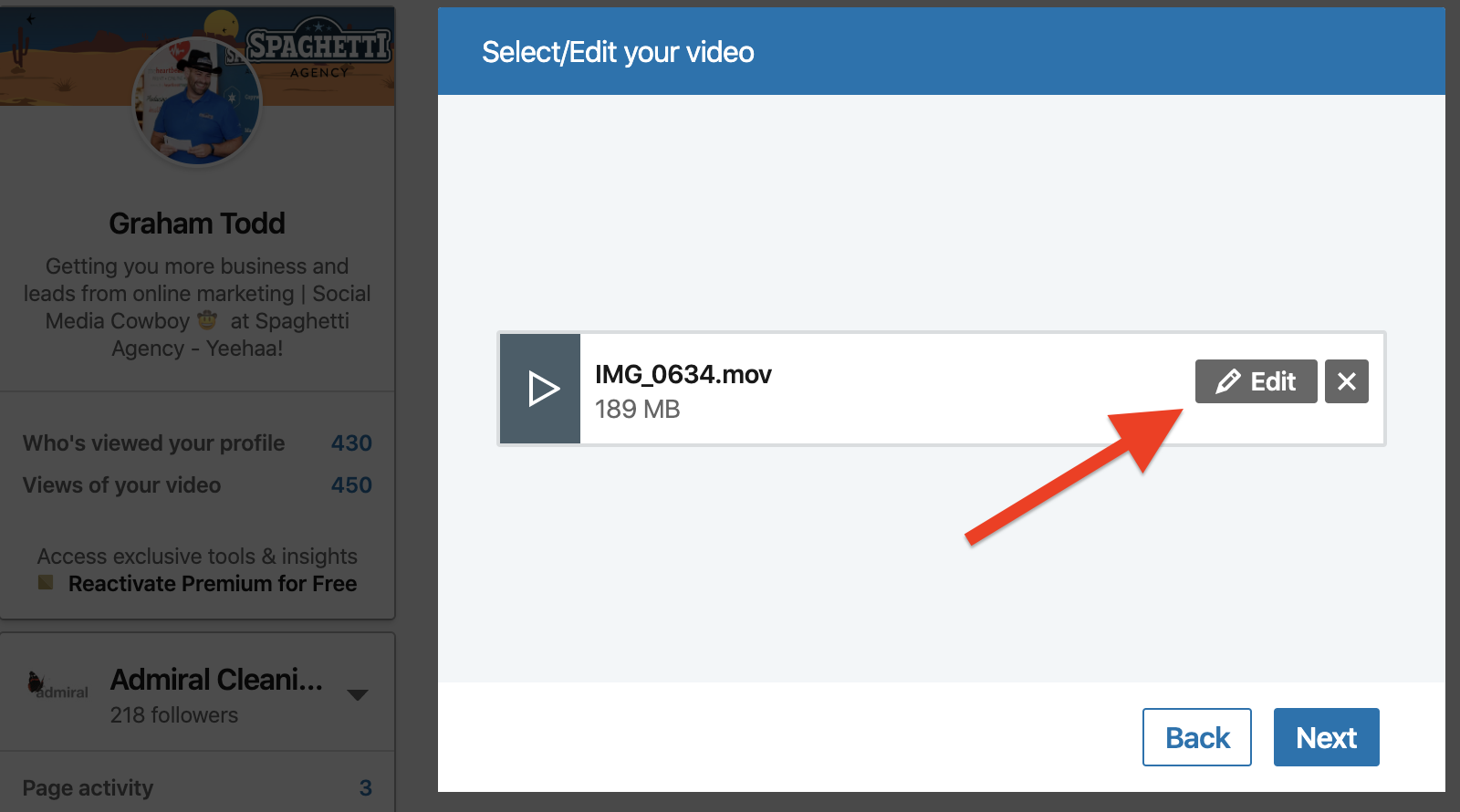 When you click that, you can then add an SRT file.
Now obviously you need to have ordered an SRT format from Rev.com. The great news about Rev.com is, once you've uploaded your video and ordered the captions, you can actually select different things afterwards as well. The majority of this blog is a transcription from the very same video – all included in the few dollars I paid for the work.
And here's the result…
This video will have cost me $3 to get the captions. If you're serious about video, I highly recommend that you do it.
I hope that helps.
---
Tags associated with this article
video
Video marketing
Post a comment
We'd love to know what you think - please leave a comment!